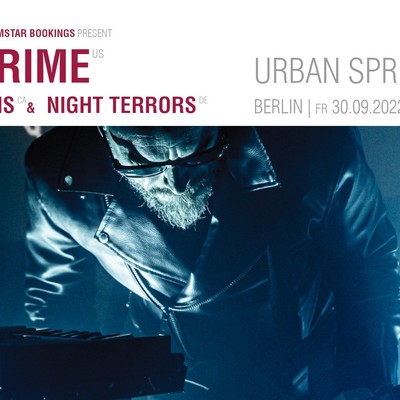 Concerts
Fotocrime w/ The Marquis + Night Terrors ◥◣ Urban Spree, Berlin
Information
Promoter
Swansea Concerts
About the Concert
𝐒𝐰𝐚𝐧𝐬𝐞𝐚 𝐂𝐨𝐧𝐜𝐞𝐫𝐭𝐬 & 𝐃𝐨𝐨𝐦𝐬𝐭𝐚𝐫 𝐁𝐨𝐨𝐤𝐢𝐧𝐠𝐬 𝐩𝐫ä𝐬𝐞𝐧𝐭𝐢𝐞𝐫𝐞𝐧:
FOTOCRIME [ US – Profound Lore ]
+ THE MARQUIS [ CAN / Berlin based – Aufnahme + Wiedergabe ]
+ NIGHT TERRORS [ DE – Isolation Rec. ] – mit seinem Live Debüt!!
Koka 36 ► Oranienstraße 29, 10999 Berlin
𝐅𝐨𝐭𝐨𝐜𝐫𝐢𝐦𝐞 – Post-Punk from Louisville, Kentucky (Members of Coliseum, Young Widows)
Ryan Patterson, der Sänger, Songwriter, Multiinstrumentalist und Produzent von Fotocrime, singt oft mit sattem Bariton und steht damit in krassem Gegensatz zu dem lakonischen Troubadour, den man normalerweise mit seiner Heimatstadt Louisville, Kentucky, verbindet. Patterson hat mehr als zweieinhalb Jahrzehnte damit verbracht, das Erbe der Stadt mit seiner leidenschaftlichen und aktivistischen Herangehensweise an die Musik, seiner unverwechselbaren Arbeit als Grafiker und seinen Beiträgen zu fast jedem Aspekt der kreativen Underground-Kultur zu bereichern. Nach seiner Zeit als Frontmann der zukunftsweisenden Punkband Coliseum suchte Patterson in den urbanen Zentren Londons, New Yorks und Berlins nach neuen klanglichen Inspirationen und schöpfte aus der Leidenschaft seiner Wurzeln, während er für Fotocrime den Sound klassischer EBM- und Post-Punk-Künstler anzapfte.
Patterson wird bei Fotocrime von zwei weiteren Underground-Legenden aus Louisville unterstützt, die beide langjährige Freunde und Kollaborateure sind: Gitarrist Nick Thieneman (Young Widows, Fool's Ghost) und Bassist Will Allard (Aon Brasi, Xerxes). Bei ihren Liveshows steht das Trio vorne auf der Bühne, um eine gitarren- und synthiegetriebene Offensive zu starten, die von den vertrauten Drumcomputern unterstützt wird.
Mit Fotocrimes organisch-elektronischem, filmischem Sound zeichnet Patterson die Topographie von betonierten Stadtstraßen nach, wobei seine Stimme jede Öffnung wie ein schwerer Morgennebel durchdringt. Die Songs sind intim und ergreifend, aber auch unmittelbar und intuitiv und erinnern uns an die gemeinschaftliche Erfahrung, sich in einem Meer von Menschen zu verlieren, während der Klang einer Bassdrum auf unsere Brust schlägt.
𝐓𝐡𝐞 𝐌𝐚𝐫𝐪𝐮𝐢𝐬
ist das apocalyptic-industrial Soloprojekt des Multiinstrumentalisten Dillon Steele – fleischgewordene, gnadenlose Musik aus Berlin. Eine mit experimentellem Sound gewürzte Musik, irgendwo an der Grenze zwischen Elektro-Industrial und Metal entführt in eine irre Welt, in der schneidende Riffs, Hardcore-Vocals und monolithische Märsche in dystopischen Klangwelten aufeinandertreffen. Looping-Rhythmen, schillernde Effekte, robuste Gitarrensounds treffen auf abrasive Verzerrung und schwer-industrielle Anleihen.
Nimm Platz für dieses apokalyptische Spektakel und genieße einen Ausflug ins Unbekannte. The Marquis ist roh und doch raffiniert, tiefdunkel und unheimlich.
𝐍𝐢𝐠𝐡𝐭 𝐓𝐞𝐫𝐫𝐨𝐫𝐬
aus Hamburg ist das Solo-Projekt von Christoph Wietzorek (Sundowning, Red Apollo). Das erste Release Death Pop From The Black Lodge erschien am 26.08.2022 digital über Isolation Records. Das Konzert am 30.09.2022 im Urban Spree ist das Live Debüt des Projekts.
Beeinflusst von Grave Wave und Synth Pop zeichnet sich Death Pop from the Black Lodge durch eine komplexe Struktur aus eindringlichen Drums und erschütternden Basslinien aus. Gepaart mit mehrschichtigen, düsteren Synthesizern, scheut Night Terrors nicht davor zurück, einen melodischen, manchmal sogar morbid verspielten Kontrast zu liefern. Eine markante, kalte und unbarmherzige Stimme führt den Hörer noch tiefer in die Dunkelheit und legt mit ihren Texten den Finger in die unendlich eiternde Wunde des blinden Optimismus.