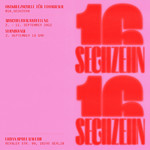 016_SECHZEHN
SECHZEHN
Final exhibition of the 16th class of the Ostkreuzschule für Fotografie Berlin / class Sibylle Fendt and Ludwig Rauch
Featuring photographic works by: Frangipani Beatt, Olf, Milena Braune, Bimal Fabbri, Amelie Körbs, Manuel Lossau, Noah Lübbe, Lina Mackeprang, Marisa Reichert, Timo Schlüter, Chiara Wettmann
Exhibition dates: September 2, 2022 7:00 p.m. to September 11, 2022, opens everyday
Opening: Friday, September 2, 2022 from 7:00 p.m
____________________________________________________________
In the exhibition Jahrgang SECHZEHN, the graduates of Berlin's Ostkreuzschule für Fotografie present their final projects.
With the aim of artistically and aesthetically reflecting current social discourses with the means of photography, the 11 exhibited artists move between documentary and artistic photography - whether in Lebanon, Ukraine, Nepal, the USA, France, in front of and behind one's own front door or in digital space.

The final works will additionally be presented in an exhibition catalog as well as in individually designed photo books.
Talks and guided tours will take place during the exhibition period, which will not only provide insights into the works, but also focus on important current issues in photography.
The Ostkreuz School of Photography emerged from the Ostkreuz - Agency of Photographers: it was founded in 2005 by photographers Werner Mahler and Thomas Sandberg.
Further information: www.instagram.com/16_sechzehn
____________________________________________________________
Further program
02.09. 19 o'clock: Vernissage
03.09. 16 Uhr: Guided tour through the exhibition with Lia Darjes (photographer, lecturer) and students
06.09. 6 p.m. to 8 p.m.: Skin & Screen - Talk about surfaces, touch and identity, OKS-photographer in conversation with Laura Benz (art historian, lecturer)
10.09. 4 p.m.: Guided tour through the exhibition with Dr. Enno Kaufhold (photographer, photo historian, lecturer, publicist and curator)


_______________________________________________________________________________________
SECHZEHN
Abschlussausstellung Jahrgang Sechzehn der Ostkreuzschule für Fotografie Berlin / Klasse Sibylle Fendt und Ludwig Rauch
Frangipani Beatt, Olf, Milena Braune, Bimal Fabbri, Amelie Körbs, Manuel Lossau, Noah Lübbe, Lina Mackeprang, Marisa Reichert, Timo Schlüter, Chiara Wettmann
2. September 2022 19:00 Uhr bis 11. September 2022
Urban Spree Galerie, Revaler Str. 99, 10245 Berlin
Mo-Fr 14 bis 19 Uhr, Sa/So 12 bis 19 Uhr
____________________________________________________________
In der Ausstellung Jahrgang SECHZEHN präsentieren die Absolvent:innen der Berliner Ostkreuzschule für Fotografie ihre Abschlussprojekte.
Mit dem Ziel, aktuelle gesellschaftliche Diskurse mit Mitteln der Fotografie künstlerisch und ästhetisch zu reflektieren, bewegen sich die 11 ausgestellten Arbeiten zwischen dokumentarischer und künstlerischer Fotografie – ob im Libanon, in der Ukraine, Nepal, den USA, Frankreich, vor und hinter der eigenen Haustür oder im digitalen Raum.
Die Abschlussarbeiten werden zusätzlich in einem Ausstellungskatalog sowie in individuell gestalteten Fotobüchern präsentiert.
Im Zeitraum der Ausstellung finden Talks und Führungen statt, die nicht nur Einblicke in die Arbeiten geben, sondern auch wichtige aktuelle Themen der Fotografie in den Fokus rücken.
Die Ostkreuzschule für Fotografie geht aus der Ostkreuz – Agentur der Fotografen hervor: Sie wurde 2005 von den Fotografen Werner Mahler und Thomas Sandberg gegründet.
Weitere Informationen: www.instagram.com/16_sechzehn
[Ggf. ergänzen:] Die Ausstellung wurde ermöglicht durch die freundliche Unterstützung von der Urban Spree Galerie, [hier Sponsoren ergänzen]
____________________________________________________________
Weiteres Programm
02.09. 19 Uhr: Vernissage
03.09. 16 Uhr: Führung durch die Ausstellung mit Lia Darjes (Fotografin, Dozentin) und Studierenden
06.09. 18 bis 20 Uhr: Skin & Screen – Talk über Oberflächen, Berührung und Identität, OKS-Fotograf:innen im Gespräch mit Laura Benz (Kunsthistorikerin, Dozentin)
10.09. 16 Uhr: Führung durch die Ausstellung mit Dr. Enno Kaufhold (Fotograf, Fotohistoriker, Dozent, Publizist und Kurator)