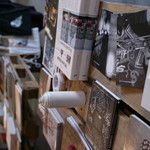 The 10 Best Street Art Books of 2018
Berlin-based specialized bookshop and gallery
Urban Spree 
releases the list of the "
10 Best Street Art Books of 2018
", a compilation of this year's best titles. Although purely subjective, it reflects several trends playing in the book market: - a renewed focus on the works of the pioneers of the 1960-70s through an academic approach; - an increase in artist monographs which put more emphasis on their studio works; - we have entered the era of "post-graffiti" - but vandal graffiti and underground street art resist well the assimilation; The list of the best publications of 2018 comes in no particular order.
1° John Divola: Vandalism
One of the most striking books of the year, "
Vandalism
" singles out itself by the sobriety of its approach
.
It consists of a black-and-white photographic series shot over 2 years in the mid-70s by the American photographer
John Divola.
Divola travelled across L.A. in search of vacant and dilapidated properties in which to shoot his project. Armed with a camera, spray paint, string and cardboard, the artist would produce one of his most significant photographic series, painting abstract constellations of graffiti-like marks, ritualistic configurations of string hooked to pins, torn arrangements of cardboard, and photographing it. "
Vandalism
" is not
per se 
a "street art book" but rather a photobook crossing over both genres. The best example of a crossover book would be Bruce Davidson's "
Subway
", a series of portraits shot on the gritty NYC subway in the 70s where graffiti abounds but is only a sub-context, not the main topic (unlike Martha Cooper and Henry Chalfant's vernacular documentary photographic oeuvre whose main purpose is to specifically document graffiti). Published by
MACK Books
, UK, in April 2018 Embossed paper-bound hardback 120 pages, 23.5 cm x 23.5 cm Buy it
here
2° Rafael Schacter: Street to Studio
"These are artists who are thus not slavishly reproducing their exterior practice within an interior realm but who are, rather, taking the essence of graffiti – its visual principles, its spatial structures, its technical methods, its entrenched ethics – and reinterpreting them with the studio domain,"
writes
Rafael Schacter 
in his introduction of his book
Street to Studio.
We have entered the
post-graffiti 
era. At a time where the graphic codes of street art are permeating most spheres of culture and entertainment, street artists have simultaneously enjoyed the favor of galleries and collectors and therefore have strongly developed their studio practice, when it was not in their ADN since the begining. What comes out is a blended space, where the artist works on both surfaces, the wall and the canvas, oscillating between different scales, the large and the intimate. Is this becoming a new paradigm in the art world? The book introduces the concept of  'Intermural Art' - art in-between the walls - to reflect that transition and has the merit of putting the emphasis on more conceptual players in the game (Brad Downey, Ian Strange, Boris Tellegen...) rather than usual suspects. Published by
Lund Humphries
 in July 2018 Edited by Rafael Schacter with a foreword by Carlo McCormick Hardcover, 218 colour illustrations 224 Pages, 27 × 24,9 cm Buy it
here
3° David Wojnarowicz: History Keeps Me Awake At Night
Beginning in the late 1970s, the American artist David Wojnarowicz (1954–1992) created a body of work that spanned photography, painting, music, film, sculpture, writing, and activism. Largely self-taught, he came to prominence in New York in the 1980s, a period marked by creative energy, financial precariousness, and profound cultural changes. Intersecting movements—graffiti, new and no wave music, conceptual photography, performance, and neo-expressionist painting—made New York a laboratory for innovation. Wojnarowicz refused a signature style, adopting a wide variety of techniques with an attitude of radical possibility. Distrustful of inherited structures, he varied his repertoire to better infiltrate the prevailing culture. Wojnarowicz's work documents and illuminates a desperate period of American history: that of the AIDS crisis and culture wars of the late 1980s and early 1990s. But his rightful place is also among the raging and haunting iconoclastic voices, from Walt Whitman to William S. Burroughs, who explore American myths, their perpetuation, their repercussions, and their violence. Wojnarowicz, who was thirty-seven when he died from AIDS-related complications, wrote: "To make the private into something public is an action that has terrific ramifications." Published by
Yale University Press
 in July 2018 Hardcover, 384 pages 160 color + 100 b/w illustrations Buy it
here
4° BLU: Minima Muralia
Italian street artist
BLU 
is one of the few street artists refusing to compromise with the art market, unwilling to translate his brillant art onto canvas, staying true to the origins of the movement - an underground, non-monetized, ephemeral, illegal & outdoor art practice for which the context and the meaning are the most important elements. While Banksy excels in subverting the codes of the art world, BLU refuses them and strikes back, erasing the murals he painted to fight their monetization (Bologna, Berlin). "
Minima Muralia
" presents each mural painted by the artist during the last 15 years, more than 200 walls. Published by
Zooo Press
 in March 2018 288 full color pages 17×24 cm, lay flat swiss binding Buy it
here
5° One Week With 1UP
Which brings us to the last frontier within the realm of the urban arts: graffiti. "One Week with 1UP" is the second published book by and about the legendary Berlin-based vandal graffiti crew
1UP.
  This time, the Kreuzberg crew embarks NYC-based legendary documentary photographer
Martha Cooper 
and Berlin-based photographer
Ninja K. 
in a series of underground actions, through tunnels, rooftops, featuring high pressure fire extinguisher tags, roll-downs, roll-ups, street bombings, whole cars and backjumps in a first-hand account. 1UP is the ultimate modern graffiti crew in the 21st century: large, everywhere, powerful, fearless, defiant, invisible. Self-Published, Berlin, 2018 A project by Martha Cooper, Ninja K. and 1UP English/German, 144 pages, 31 x 22 cm Buy it
here
6° Klone: "Few Moments Ago I Was Here"
Klone is an Ukrianian-born, Tel-Aviv based street artist, a pioneer of graffiti in Israel and a visual artist who was the first to exhibit at Urban Spree and one of the reasons why we did the space in the first place. I stumbled upon his fist published book - "
Don't Sleep"
- in 2011 and was so moved by its personal content, poetry, freedom, that I wanted to meet the man and work with him. 8 years later comes
"Few Moments Ago I Was Here",
 looking over those past 8 years of exhibitions, mural projects, installation, and animations. "Few Moments Ago I Was Here" is an artist book. By this, we mean a book which is mainly thought, designed, created and published by the artist himself. We always try to get as many self-published and artist books in the bookshop because they are precious and unconventional. Of course they are difficult to source, as we can get our hands only on a small stock, they sell out fast and we need to replace them but we can't get enough of them. Self-Published, Tel Aviv, November 2018 (Hell No Publication) Limited edition of 500 copies. Softcover. Full colour offset print on Munken lynx paper. Buy it
here
7° Ian Strange: Islands 2015-2017
Continuing on the self-publication mood and echoing John Divola, the Australian artist
Ian Strange  
publishes
"Islands 2015-2017",
a photographic monograph documenting his interventions on American suburban homes, in the wake of Gordon Matta-Clark or David Wojnarowicz. Through photography, sculpture, research, found artefacts and drawings, "Island" reflects on the home through the metaphor of the desert island, a place of personal sovereignty but simultaneously entrapment. "Island" interplays the monumental with the intimate and intangible. Exploring the icon of the home as a deeply vulnerable object and personal vessel for memory, identity and aspiration. Self-published Limited edition of 400 hand numbered and signed books with a concertina print 25 x 34 cm Buy it
here
8° Jan Kalab: Point of Space
"Point of Space" is the first published monograph of the Czech graffiti and visual artist Jan Kaláb, covering 25 years of his urban and studio creations, through multiple art forms (paintings, 3D graffiti, bombings, sculptures, installations). Jan Kaláb started as a pure graffiti writer and achieved fame under the monikers "CAKES" and "POINT". From there, his practice evolved to murals and studio works, sculptures and canvases and this evolution, patiently documented, is fascinating to follow. The book was edited by the artist himself with texts by the czech art critic Petr Volf. Published by Trafacka/Trafo Gallery Prague, in November 2018 320 pages Hard Cover, 25 cm x 32,5 cm Texts by Petr Volf and book design by Jan Novák Buy it
here
9° Swet: Book of the Year
One of the last published books of 2018, "
Book of the Year
" is a comprehensive monograph encompassing 1 year of walls by the danish graffiti writer
SWET
. A graffiti "tour de force", all the walls depicted in the book were painted in 2017 and amount to over 300 wall pieces, almost one per day, all of them documented in the book, including some sketches. The book is bound with a piece of a canvas specially painted by SWET for this project and each book has a different binding, which also highlights the precise work of the dutch artisan publishing house Chemistry Publishing. Published in November 2018 by
Chemistry Publishing
First Edition of 500 240 pages printed on Munken Crystal Rough Cover embossed with green linen, 24 x 28,5 cm Buy it
here
10° Russian Urban Art: History and Conflict
Street art books are usually more about photographs and visual documentation than text. Few history books actually exist on the graffiti and street art movements, let alone about a peripheral movement such as street art in Russia. It is therefore the merit of the Russian artist and curator Igor Ponosov to examine the power of street art in Russia by exploring its historical background, extending from the avant-garde movements of the early 20th century, to the non-conformists and the actionists of the 21st century. Self-Published, Moscow, June 2018 Edition of 500 Hardcover, 20 x 15 cm, 96 pages, English Buy it
here