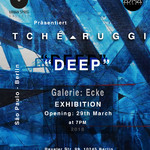 Tché Ruggi: Deep
Urban Spree
 and
A7MA
(Sao Paulo) present an exhibition in
Urban Spree Galerie's Ecke
of new works by Sao Paulo based artist
Marcelo Ruggi a.k.a. Tché.
Tché created some of the works of his series "Deep" as an
Urban Spree Resident Artist
in
March 2018
. Tché Ruggi and "Submercidade", his latest series, is the result of a profound dive into "Sea of Perceptions", his first body of works, when he had the chance to meditate and seek deeper meanings. In the midst of darkness, his forms reflected silvered lights and unveil this submerged city.
Time made the triangular geometries defragment and unraveled what was behind their pyramidal assemblies, finding a new universe of possibilities to explore. "De
ep" portrays the current moment of the artist who in his deep immersion, looks at the light and returns towards the surface. Exploring his sensations, senses and memories, he deciphered the "Enigma" and reached the maturity expressed in dynamism and gesture, in his representative aquatic structures.
Text:
Enivo
Translation from Portuguese:
Marina Zumi
About the artist:
In 2004, Tché visited an old house in ruins. The mud and the aggressive action of nature over the construction's remains seemed like saying , "do not paint in here". The space, where in and outside were in harmony as a chess game. The sky was part of the roof and the ground was the soil. The artist waited for an omen. The sunset arrived touching the destroyed windows, cutting it self through the broken pieces of glass and projecting its own paint of light and shadow over the surfaces as an invisible event, drawing on the walls calling the night. From this day, the geometry of the shapes projected by the light, small triangles, pointed shapes, hard waves, dry cuts, they all became raw material for the artistic process. Tche adopted the fragments of this mysterious answer to spread it little by little on his repertory casted in iron, overlaying the layers, pressured on paint, magnetizing fields. It was built the enigma of an impossible pyramid. Tche Ruggi, graduated at Faculdade Belas Artes de São Paulo, on 2009. On 2008, he was one of the founders of Atelier 132, that originated the "Coletivo 132", a collective of graffiti artists. Tche has done exhibitions in Austria, Germany and Brazil. On 2012, he founded with his partners the A7MA Space of Art and Culture, which is growing until today and hopefully for a long time. Opening: Thursday, May 29th 19:00 - 22:00 Urban Spree Galerie Revaler Str. 99 10245 Berlin