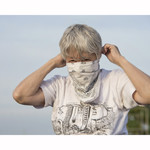 "One Week with 1UP": Opening at Urban Spree
"
One Week with 1UP
" is an exceptional exhibition of photographs and artworks by
Martha Cooper, 1UP Crew,
and
Ninja K.
 to coincide with the publication of the book "
One Week With 1UP
". The show is only the second solo Berlin exhibition ever made by the legendary Berlin-based vandal graffiti crew 
1UP
after their first show at Urban Spree in 2014 - "I Am 1UP".
This time, the Kreuzberg crew embarks NYC-based legendary documentary photographer
Martha Cooper
and Berlin-based photographer
Ninja K.
in a series of underground actions, through tunnels, rooftops, featuring high pressure fire extinguisher tags, roll-downs, roll-ups, street bombings, whole cars and backjumps...
"
One Week with 1UP
" is a first-hand and behind-the-scenes account of the most important European crew of the 21st century.
The
Opening Night
will start at 19:00 with the vernissage of the exhibition and the release of the book
in presence of Martha Cooper
. A new screen print, "
Letters of 1UP
", as well as the brand new tees & hoodies will be also released. Open end outdoor party with Beathoavenz, That Fucking Sara, Sara Wave. At 21:30, special video release. On top: 1UP Flash tatoos in partnership with our resident Amor de Madre #Berlin & African cuisine by DeDeeDe.
Urban Spree Galerie presents: ONE WEEK WITH 1UP
A Project by 1UP, Martha Cooper and Ninja K.
Opening: May 9th, 2018, at 19:00 - open end
Exhibition: May 10th, 2018 - May 27th, 2018 Tuesday-Sunday / 12:00-19:00 Info:
contact@urbanspree.com