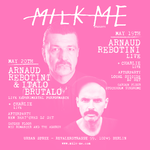 2 Nights of Live Electronic Dance Performance with Arnaud Rebotini
𝑴𝑰𝑳𝑲 𝑴𝑬 𝒑𝒓𝒆𝒔𝒆𝒏𝒕𝒔
Paris-based electronic musician Arnaud Rebotini (Black Strobe, Zend Avensta) joins us in the Urban Spree concert room for a 2-night residency of live machine-based electronica.
𝑴𝒂𝒚 19𝒕𝒉 - 𝑨𝒓𝒏𝒂𝒖𝒅 𝒘𝒊𝒍𝒍 𝒑𝒓𝒆𝒔𝒆𝒏𝒕 𝒂 𝒔𝒑𝒆𝒄𝒊𝒂𝒍 𝒔𝒐𝒍𝒐 𝒑𝒆𝒓𝒇𝒐𝒓𝒎𝒂𝒏𝒄𝒆
-------------------
Arnaud Rebotini - Live
Support: Charlie - Live
Afterparty: Local Suicide - DJ Set
Garden Floor: Stockholm Syndrome - DJ Set
𝑴𝒂𝒚 20𝒕𝒉 - 𝑨𝒓𝒏𝒂𝒖𝒅 𝒘𝒊𝒍𝒍 𝒃𝒆 𝒋𝒐𝒊𝒏𝒆𝒅 𝒐𝒏𝒔𝒕𝒂𝒈𝒆 𝒃𝒚 𝑰𝒕𝒂𝒍𝒐 𝑩𝒓𝒖𝒕𝒂𝒍𝒐, 𝒘𝒉𝒆𝒓𝒆 𝒕𝒉𝒆 𝒕𝒘𝒐 𝒘𝒊𝒍𝒍 𝒑𝒓𝒆𝒔𝒆𝒏𝒕 𝒂 𝒐𝒏𝒆-𝒐𝒇𝒇 𝒍𝒊𝒗𝒆 𝒆𝒙𝒑𝒆𝒓𝒊𝒎𝒆𝒏𝒕𝒂𝒍 𝒑𝒆𝒓𝒇𝒐𝒓𝒎𝒂𝒏𝒄𝒆
-------------------
Arnaud Rebotini + Italo Brutalo - Live Experimental Performance
Support: Charlie - Live
Afterparty: New Beatch'es DJ Set
Garden Floor: Neu Romancer and The Adoroh DJ Sets
𝑨𝒓𝒏𝒂𝒖𝒅 𝑹𝒆𝒃𝒐𝒕𝒊𝒏𝒊
Arnaud Rebotini is a French author, composer, performer, and producer. He is also the founder of the label Black Strobe Records.
Arnaud is one of today's most versatile artists and performers, capable of existing in both dance floor and experimental worlds, moving freely between the two. He has also composed several soundtracks (lately for Dario Argento's "Occhiali Neri" in 2022 and the acclaimed "120 Battements par minute" in 2017 which received the César 2018 for Best Original Soundtrack.
---------------------------------------
𝑰𝒕𝒂𝒍𝒐 𝑩𝒓𝒖𝒕𝒂𝒍𝒐
Vintage synth fetishist and genuine circuit-bending whiz, Italo Brutalo is no typical dealer of hardware-squeezed juice. Tapping in the endless potentialities of his analogue army of retro machinery, the German producer has built a sound ID that defies conventions and takes pride in trespassing all the frontiers and limitations associated to the etiolated map of dance music styles.
---------------------------------------
𝑳𝒐𝒄𝒂𝒍 𝑺𝒖𝒊𝒄𝒊𝒅𝒆
Berlin-based DJ duo & couple known for their energetic fusion of new wave, slow techno, EBM, post disco and acid house often with oriental influences that they themselves like to call 'technodisco' and 'cobra wave'.
---------------------------------------
𝑵𝒆𝒘 𝑩𝒆𝒂𝒕'𝒄𝒉𝒆𝒔
New Beat'ches is a b2b DJ project consisting of members Philipp Strobel, head of the Berlin-based record label.aufnahme + wiedergabe, & Paty Vapor, Brazilian artist & member of the infamous Blum, Slow Motion Rec. / Wrong Era, not found, 1/2 of Wisdom Tits & Amigas da Onça. They focus on bringing the early industrial Belgian New Beat era into their music research, blending it with post punk, minimal synth and EBM.
Get your ticket for 1 or 2 nights by clicking on the links under: