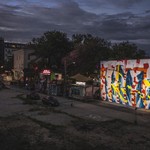 Arbeitstitel completes the 4th and final wall of the StillStand Project
The Berlin artist duo Arbeitstitel (Robert Westphal | Laurent Wians) has completed their mural at Urban Spree, the 4th of the StillStand series and the final wall of the project.
The duo painted an abstract composition, made essentially from fragmented elements and visually impressive with a bright palette, enhanced by sparks of fluorescent yellow.
[metaslider id=19260]
The AT20 mural at Urban Spree, facing Warschauer Str., will be visible until around the end of July 2020. Photos by Lukas K. Stiller.