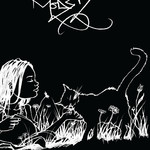 Mode2 and Urban Spree release "Never Too Late..."
10 years after its publication, we are happy to re-release the second edition of Mode2's legendary book "Never Too Late..." in 2 different editions.
The book will be released exclusively on the Urban Spree webshop here on Friday April 3rd at 18:00 CET (Berlin time).
Originally published in 2008 in a 64-page hardcover version, the book sold out instantly. A second, revised softcover edition of 80 pages was commissioned in the wake but was never properly released. Since it's "Never Too Late...", we are finally releasing the book for its 10th Anniversary Year. To celebrate the return of the prodigal book, in addition to the regular trade edition, Mode2 has designed a
Special Edition of 100 copies
. Each of the 100 book covers has been spray-painted and each copy is signed and numbered.
Numbers 001-050
come with a screen-printed tee-shirt of the cover's motive, printed in-house at Urban Spree (Earth Positive brand, organic, fair trade cotton) while
numbers 051-100
will be only the signed and numbered edition of the book. Published by Lazarides Gallery, London, in April 2010 Book Design by Mode2 Second Edition Softcover 80 pages 16,5 x 24 cm