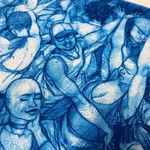 Mode 2 x Urban Spree: "Straight Outta Lockdown" HPM prints to be released
"Straight outta Lockdown / The Freedom Prints" is a series of vintage Mode 2 prints (from the mid 2000s to the early 2010s), hand-painted or hand-sprayed in 2020, and re-numbered in very limited runs.
We inaugurate this summer with a series of print releases from the Berlin-based graffiti "legend" (he HATES that term!) Mode 2.
Published originally by Pictures on Walls, Lazarides, MHI or Sergeant Paper, most prints sold out quickly, some runs were never released, and the artist recently came across much of these print archives that had been stashed away years ago; some from his personal quota and the rest returned by the publishers.
The idea came to release them again, though not without hand-finishing each series; even the ones that had already been through this process.
Each print has therefore been custom-painted by Mode 2, to embellish the works with matching Belton spray colors or acrylic paint. Those HPMs have been re-numbered to create a new edition, with added aesthetic value and a marked difference from the original release.

The first print of the series is called "Sofa Spank", originally released in 2010
The first series of 3 HPM prints will be available on Thursday, July 9th, at 18:00 CET on the Urban Spree online shop and in the galerie in Berlin.
--------------------------------------------------------------------------------------------------------------------
Mode 2
"Sofa Spank"
3-colour screen print on archival paper
Originally printed in 2010 by Sergeant Paper
Hand-sprayed with 3 spray colours in 2020
56 x 76 cm
Edition of 20
Signed and re-numbered 1-20