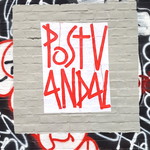 Opening of SP38 Art Residency Exhibition "Post Vandal 2"
Berlin-based street artist
SP38
 was invited by
Urban Spree Galerie
and
Boddinale
for a special gallery residency alongside the film festival (15-25.02.2018).
After 2 weeks of daily indoor work and street interventions in Friedrichshain, we invite the public to discover the outcome of the art residency over the upcoming weekend together with the artist. 
The exhibition opens on Saturday, February 24th
from 14:00 to 23:00 and will continue on Sunday February 25th from 12:00 to 23:00. Visitors will be able to acquire the original works on canvas and paper produced during the residency in addition to a selection of screen prints and stickers. SP38 will also screen print "Post Vandal" tote bags live on Saturday! "
Post Vandal 2
", explores the notion of vandalism at the age of post-graffiti. A relentless urban wanderer and street typographer, SP38 (b.1960) uses different lo-fi techniques (collages, paste-ups, stickers, screenprints, paintings) to imprint his vision of the city and his letters to the walls. Involved at an early stage with the "Figuration Libre" movement in Paris and participant to the first graffiti and street art meeting in 1985 with Vive la Peinture, Speedy Graphito, Futura, Miss Tic, and Blek Le Rat, SP38 has navigated in different squat scenes (including the infamous Berlin's Tacheles) before moving to Berlin in 1995.
A prime witness of the fast-paced gentrification of the metropolis, his art subtly reveals the fractures of the city through successive campaigns and catchy slogans ("Who kills Berlin?", "Erased", "Escape", "Occupy", "Vive la Bourgeoisie", Vive la Crise"…), where the intimate, personal level often collides with the bigger scale.
SP38: "Post-Vandal 2"
Art Residency at Urban Spree Galerie
12-02-2018 – 25-02-2018
Opening of the Exhibition: Saturday 24.02.2018 // 14:00 – 23:00
Exhibition: Sunday 25.02.2018 // 12:00 – 23:00
Free Entrance
https://www.instagram.com/sp.38/
http://www.sp38.com