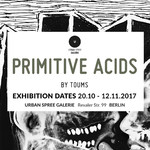 Opening of Toums' solo show "Primitive Acids"
Urban Spree Galerie
presents «
Primitive Acids
» a photographic exhibition by
Toums
 from 20.10 to 12.11.2017. The
Opening Reception
will be held on
Friday, October 20th from 19:00 to 22:00
. « Primitive Acids » is the first German solo show of the French experimental analog photographer Thomas Gosset a.k.a. Toums. Wandering between his native Bordeaux and Berlin, Toums redefines the medium of analog artistic photography by attacking his negatives with acids, ink, paint and other physical alterations and combining his skillsets with a dark contemporary mythology.
Working in darkroom and strictly excluding all forms of modern technique, his practice lurks in the footsteps of the late 19th century pioneers and early 20th century surrealist avant-gardes. Portraits are his pref
erred genre. Toums destructures them until they achieve the transmutated vision that the artist has assigned to them. Like a deus ex machina, the photographer creates the portrait with his camera and subsequently creates the final image through his manipulations ex-post.
Utterly disrespectful of the medium, desacralizing it in order to provide a new meaning, Toums is a rare breed of an iconoclast photographer, with filiation looking towards Joel-Peter Witkin, Pierre Molinier, and Roger Ballen.
His direct and deadly intervention on the film, the materia prima of his work, procures a highly unstable result. Soon to be destroyed by acids, slowly corroding the matter, the films are revealed in the darkroom process and printed on silver gelatin. As the film returns to dust, the portraits become fugitives, trying to escape their own fate, living in a printed dimension and refusing mortality. It is no accident that most Toums compositions are building a new mythology with some elements borrowed from the Greek corpus of myths.
« I destroy my own films with the intention of entering in the very heart of the photosensitive material, which allows me to have a direct control over the frozen reality that I destructure at will. The goal being to understand this matter as painting with the intention of pushing back the normal process of photography to expand my own field of investigation and thus regain an imaginative and narrative freedom. For years I wanted to freeze absurd moments in reality. »
Urban Spree Galerie
Revaler Str. 99
10245 Berlin
20.10-12.11 2017
Tu-Sa : 12:00-18 :30
Galerie enquiries: pascal@urbanspree.com
Press enquiries: diana@urbanspree.com