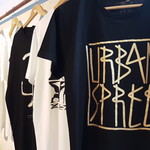 SP 38 designs 2 t-shirts for Urban Spree
The Berlin-based French street artist
SP 38
has designed 2 t-shirts for the Urban Spree 2017 collection.
The RED & GOLD t-shirts are limited to 25 pieces only per edition and are screen printed in-house at Urban Spree in Berlin with the iconic SP 38 hand written style. Since more than 20 years, SP 38 pastes and sticks hand-written posters on the streets of major cities.
The
Urban Spree Artist Series
is a limited edition of screen printed calligraphic t-shirts in collaboration with street artists who possess specific and iconic hand-writings.
Get yours in our Berlin shop or online here
:
http://bit.ly/2x7wGRG