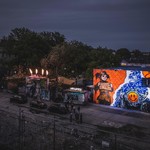 #StillSTAND Project's Vorspiel: Johannes Mundinger and Señor Schnu
Just before the official kickoff of our Still STAND project where 4 applications to paint the Urban Spree Artist Wall have been selected - out of 89 submissions - and will unfold over the course of June and July 2020, both Johannes Mundinger and Señor Schnu wanted to give a face lift to the wall after a long winter, and Corona oblige, actually much longer than we had anticipated.
Johannes Mundinger painted the large wall at Urban Spree mid-April 2020 (his third take on the wall, setting thereby a new record) with an abstract composition in tune with the "Leave No One Behind" campaign to repatriate refugee children from camps in Greece.
Shortly after, Señor Schnu took over the Wall with a vibrant composition assembling different elements from propaganda, economics, and positive symbols to make a statement: "We can't return to normal, because the normal we had was precisely the problem" or how legitimate aspirations to "get back to normal" owing to the corona crisis must instead give way to healthier relationships and a different way to create social links.
As the Still STAND team started to get together for the first upcoming wall of the project, our drone photographer, Lukas Stiller, managed to take spectacular shots of the wall at dusk.
[metaslider id=18840]