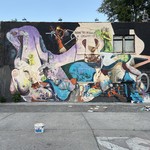 The #StillSTAND Project kicks off its first wall with Howtokillagraffiti
The Berlin-based artist howtokillagraffiti inaugurated the #StillSTAND Project by painting the first mural of the 4-part series.
The artist uses graffiti to create a structure and then populates it with various figures and shapes, intertwines them, hides them in plain sight. The outcome is a hybrid work between "painting" and graffiti, blurring the lines between the codified form of graffiti and the freestyle element of modern painting.
To learn more about the artist and his background, read the interview of howtokillagraffiti on the blog platform Urban Presents (in English and German).
[metaslider id=18935]