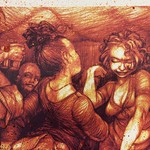 "THIS!": 3rd Print in the Mode 2 "Lockdown" Series
"Straight outta Lockdown / The Freedom Prints" is a series of vintage Mode 2 prints (from the mid 2000s to the early 2010s), hand-painted or hand-sprayed in 2020, and re-numbered in very limited runs.
"THIS!" is the third release of the series and by far the oldest print, having been published in 2003 by PoW in London.
Based on a flyer for the "THIS!" parties at Bar Rumba initially drawn in Mode 2's blackbook, the motive was digitally printed in quadtone and has been hand-sprayed by Mode 2 in June 2020 with 3 matching tones of Belton.
The final run of this new series amounts to 24 prints only, signed and numbered.
The first series of 3 HPM prints will be available on Thursday, July 9th, at 18:00 CET on the Urban Spree online shop and in the galerie in Berlin.
Mode 2
"This!"
Digital print on 300g/sm archival paper
Originally published by Pictures on Walls (PoW) in 2003
Hand-sprayed and re-numbered in 2020
Each print is different
45 x 68 cm
Edition of 24
Signed & Numbered 1-24