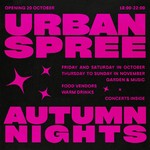 Urban Spree's Autumn Nights
Urban Spree presents "Autumn Nights", an outdoor weekend celebration of food and music.
Starting on Friday, October 20th, the initiative is built around our indoor concerts' program with an outdoor selection of street food vendors, fire pits, extended opening hours for the gallery and warm drinks (Winterspree is back!).

It's happening from 18:00 to 22:00 every Friday and Saturday in October before extending to more days in November.

For this first Opening Weekend, we welcome @e.k.l.e.k.t.o.n with his legendary souvlaki, @fabioskitchenberlin with fresh homemade pasta and his signature steak sandwich. Our resident pizza joint @slicesofdoom will bake a stuffed focaccia and we'll be serving our new hot dogs, including the Vegan Kimchi Dog :-). And for the sweetness, Fabio will prepare his gorgeous Tiramisu!

Concerts on Friday are the grand pop-rock Riviera Fest extravaganza powered by @maiorano.music with no less than 5 bands on stage and Saturday brings the dark electro duo NNHMN and She Can't Afford Mascara preeented by @aufnahmeundwiedergabe

Concertgoers with a ticket enjoy a 10% discount on food and a free glass of Winterspree! Free Entry for the event except access to indoor concerts (tickets only).