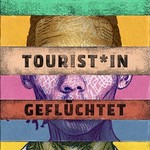 Various & Gould: Identikit Generator
In 2007, the Berlin-based artist duo
Various & Gould
launched the Identikit series, a reflection on multiple identities, through a choice of faces & words composing endless variations and contradictions. 10 years later, the duo is invited by the Leipzig Book Fair 2018 to introduce an updated version of the series, focused on Europe and its numerous crises and issues.
This project discusses the topic of immigration, identities and clichés. Identities are highly complex and always diverse whereas clichés are the embodiment of simplification.
To visualize this issue, Various & Gould have chosen a technique known from children's books. Portraits of prominent personages and words are horizontally cut into strips enabling to rearrange them in endless variations. There are numerous different options – some make sense, some do not, but most invoke images confronting the viewer with own stereotypes and clichés.
The duo has developed a digital version, where users can compose their own motives and then publish online. So far, the version uses only german words but an english version should be available soon. You can access the generator here: 
http://variousandgould.com/identikit-generator/