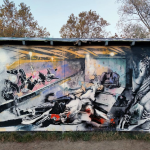 POLYPTYCHONSZ: Book Release & Finissage
Urban Spree Galerie invites you to the Book Release & Finissage of "POLYPTYCHONSZ", the solo show of HOWTOKILLAGRAFFITI at Urban Spree.
The Finissage and Book Release will happen on Saturday, June 11th, from 16:00 in presence of the artist.
The book is the first compendium of walls painted by HOWTOKILLAGRAFFITI, mostly in Berlin, over the last years. It's a great companion to go deeper in the universe of the artist, and discover his outdoor artistic practice.
The exhibition will also be open on Sunday, June 12th, for its last day (12:00-19:00).