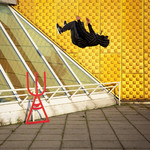 Release of the Paradox Black Edition Hoodie
Urban Spree releases on Sunday, August 22nd 2021 the long-awaited Black Edition of the Paradox Hoodie. The Black Edition zip-up hoodie is available online in the Mr. Paradox Paradise Store as well as in our Berlin Store.
The hoodie comes as a Regular Edition and as a Special Edition of 50 hoodies with 2 home-made laser sculptures as zipper pullers.