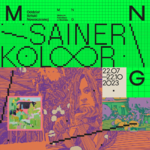 SAINER opens SAINER KOL∞R at the National Museum in Gdańsk
SAINER opens his first solo exhibition of the year at the prestigious National Museum in Gdansk, Poland on Saturday 22.07.2023 (until 22.10.2023).
The exhibition, titled SAINER KOLOOR, marks a significant moment in the artistic journey of the artist, as his most extensive and meaningful show to date. It features a carefully selected collection of artworks, spanning from the earliest sketches dating back to 2014 to his most recent canvases. Throughout the years, Sainer has embarked on a creative quest, exploring new formal and color solutions inspired by the boundless beauty of nature and the captivating essence of landscapes.
Sainer, i.e. Przemysław Blejzyk, was born in Łódź in 1988. He received international acclaim even before graduating from his studies in the Strzemiński Academy of Fine Arts in Łódź. Together with Mateusz Gapski – Bezt – with whom he formed a duo called Etam Cru, the artist produced several dozen murals all over the world. His large-format paintings located in urban spaces are marked by an original style inspired by the aesthetics of the comic book, illustration, anime and classical painting. Elaborated with a large dose of detail, the figures immersed in the colourful world of magic realism have gained popularity and become a model willingly copied in muralism.
In 2016, tired with the creation of minutely detailed portraits, in search of new challenges, the artist turned towards landscapes and outdoor painting. Taking inspiration from the surrounding visible world, he focused on composition and the relation between form and colour. Gradually, portrait and detail were forced out by the increasingly synthetic landscapes and patches of colour. Although Przemysław Blejzyk decided to delineate his own path of formal searches, he is strongly inspired by the achievements of Polish colourists and master landscapists. He processes them creatively, taking into account the way in which we contemporarily consume visual messages – fast, among a barrage of stimuli and images. He puts together different formal languages, constructs multistage compositions, experiments with colour, and searches for relations between painting and music. When reaching his desired effect, he goes beyond his comfort zone and sets off on his journey taking us along with him.