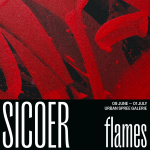 Upcoming Black Room Show: SICOER opens "Flames"
Polish contemporary handstyle artist SICOER returns to Urban Spree for his second solo show after the breakthrough « Explorations » in June 2020 and his participation in the calligraffiti group show « Letters » the same year.

In « Flames » SICOER presents a whole new body of works which revisit his freestyle brushstrokes approach from the years ca. 2018 and starts a new cycle of paintings.
Using large, expressive brushstrokes to apply the flow of the moment on the canvas, SICOER adds multiple layers and transparencies to create depths and resonance. Moving away from a more straight line approach, the new paintings are more spontaneous. However, with SICOER, each move is also orchestrated, there is nothing left to chance, the energy stems from years of training, whether acquired in the street or infused onto the canvas. What counts at the end is the flow and the colors, the beat of the painting, the tempo of the hand, the clarity of the mind. These abstract lettering compositions are not the result of a random choice but the outcome of years of practice.
SICOER
Flames
9 June - 01 July 2023
Urban Spree Galerie
Revaler Str. 99

10245 Berlin
Info & Catalogue: contat@urbanspree.com