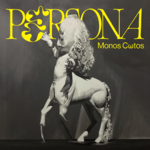 Upcoming Exhibition: PERSONA by Monos Cwtos
Urban Spree Galerie presents "Persona", the first solo show in Germany of the Athens-based painter and muralist Monos Cωtos.
The Vernissage will be held of Friday 08.09 followed by a special Berlin Art Week Opening on 15.08 in conjunction with the participation of the Galerie in Positions 2023 (14-17.09.2023).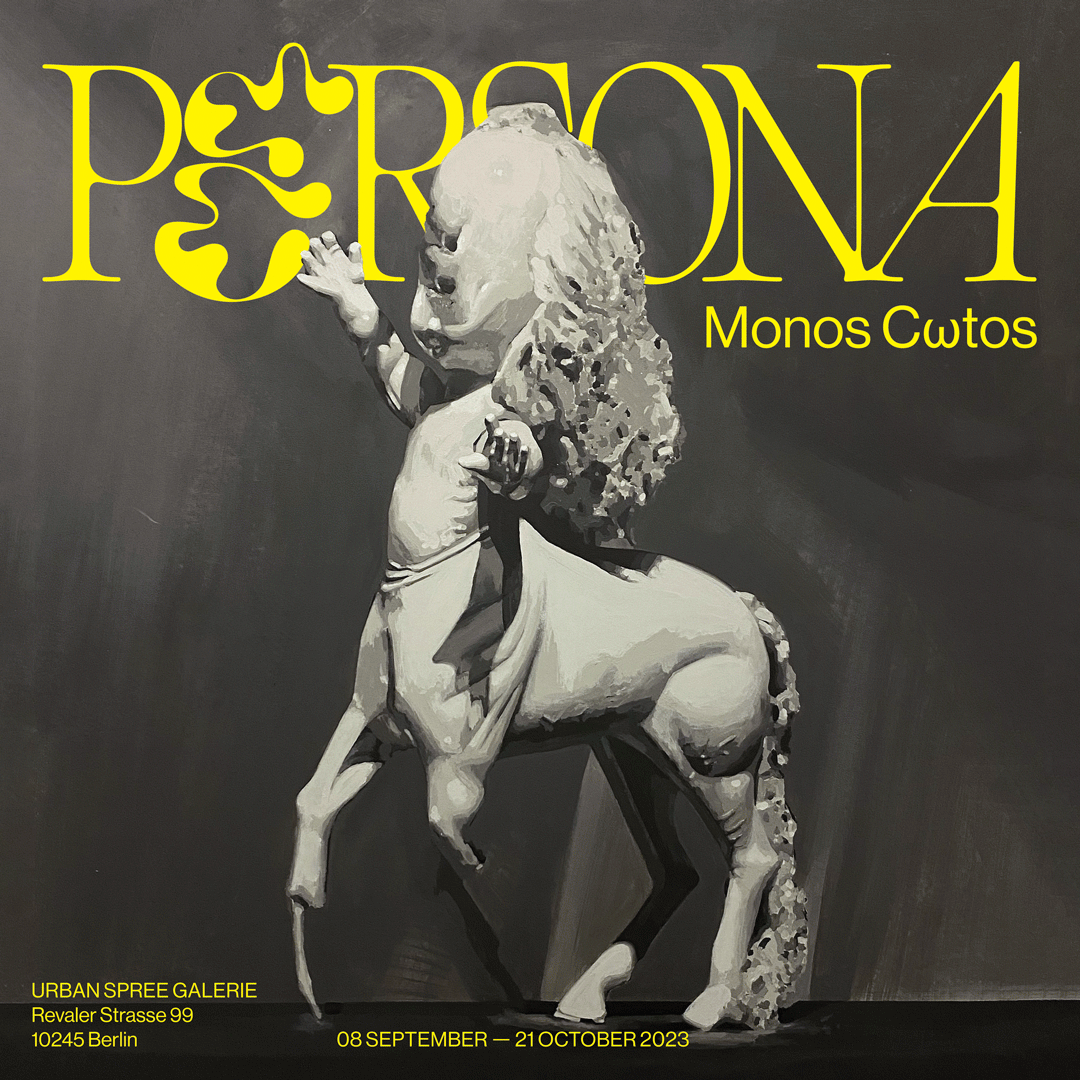 Monos Cωtos (pronounced Monos Sotos, born 1985 in Greece) started his career as a graffiti and street artist before graduating from the Academy of Fine Arts in Athens.
Monos Cωtos focuses on the political and social critiques within his surroundings through forms and strategies of representation that carefully balance autobiographical practices and participatory strategies.
The collective reclaiming of abandoned industrial buildings through artistic interventions constitutes one of the chief strategies employed to address the limitations imposed by the societal context. His latest collective public space project "Peramo" in June 2023 gathered more than 20 local artists and 70 murals on 4000 sqm in an abandoned factory 30 kms outside Athens. His crew "Outer Space Kids" explores tunnels and transforms abandoned factories to outdoor galleries. Their artistic creations are scattered in old industrial structures across Greece. It is a large scale attempt to reclaim public space for free creation & independent projects, without the validation of the elites, in a land that is usually subject to intense pressure by real estate development.

His murals and paintings - large-scale and achromatic - evoke both political and social memories, which intertwine with personal narratives, thereby challenging the dichotomy between private and public spheres. The works hint to an individual and collective photo album, distant family lines, a glimpse into a society of individuals, slightly distorted and clashing into a post-internet reality.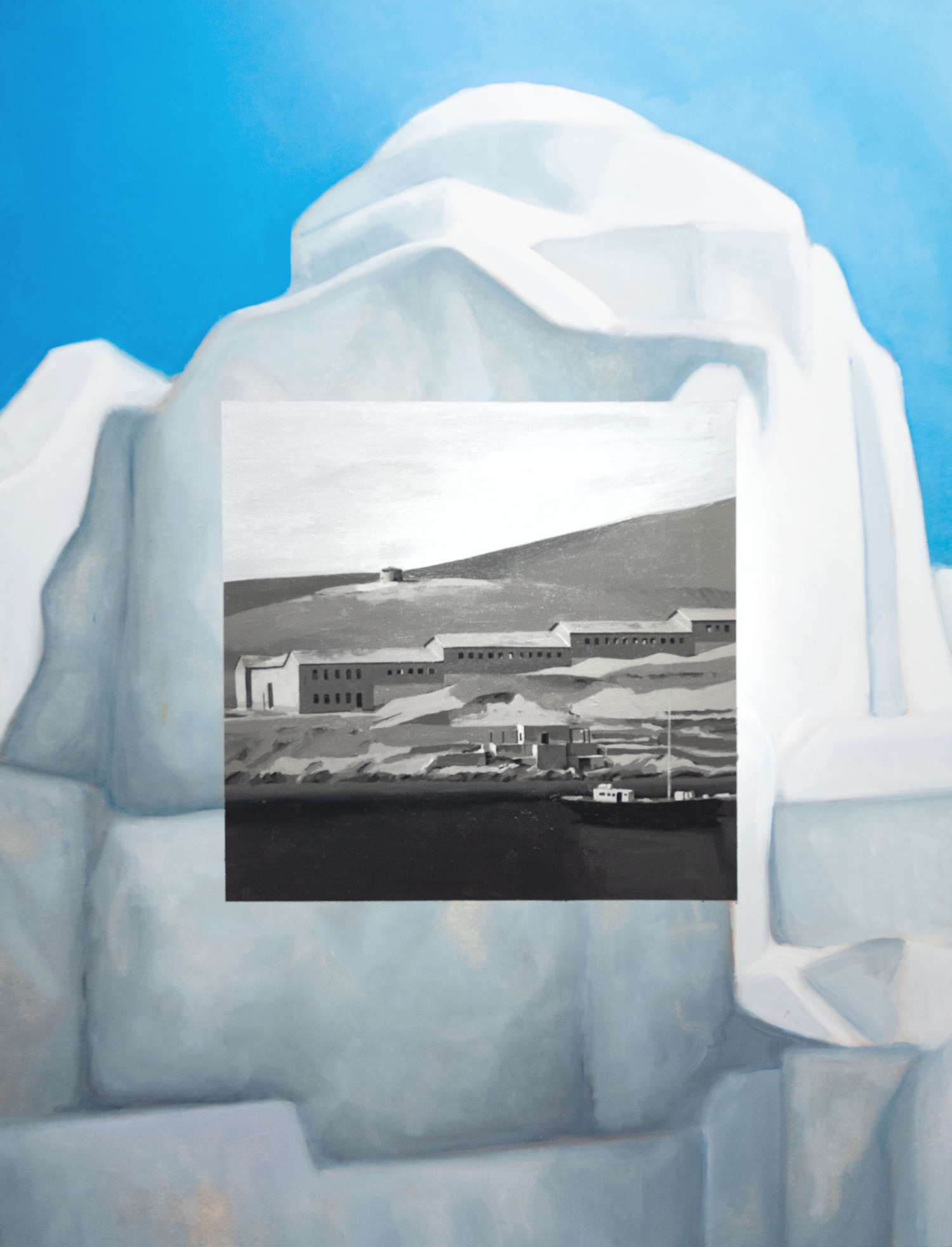 The exhibition is divided in two sections: the main room prominently showcases two thematic categories: portraits and places. The portraits, whether normal or distorted, show individuals, the body of society. The places depicted can be specific or abstract, illustrating distressing scenes where the aforementioned subjects reside, move, and engage socially. This series accentuates the significance of communities and space, striving to revive the essence of human interaction among ordinary individuals that have, to some extent, been eroded or lost. In the "Black Room", the exhibition is devoted to large scale paintings in collaboration with fellow greek painter Barba Dee and the projection of the documentary film ''Outer Space Kids'' from Director Giorgos Gounezos which documents an abandoned factory project of the crew.
Monos Cωtos lives and works in Athens.
Monos Cωtos: PERSONA
Opening: Friday, September 8th, 2023,18:00-22:00 in presence of the artist
Urban Spree Galerie
Revaler Str. 99
10245 Berlin
Info & Catalogue: pascal@urbanspree.com
Instagram link to monos.cwtos
Instagram link to Barba.Dee