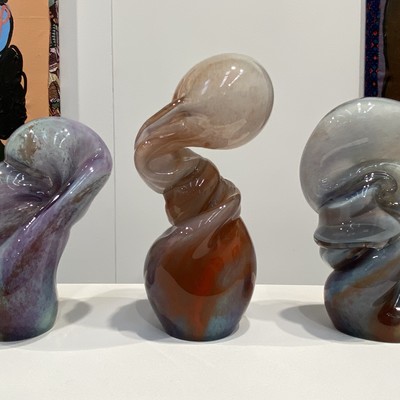 : POSITIONS Berlin Art Fair
Sep 14, 2023
Sep 17, 2023
Information
Vernissage
Sep 14, 2023 18:00
About the Exhibition
Urban Spree Galerie participates in Berlin's Positions Art Fair 2023 for the first time with a duo show featuring portraits on canvas from Jonni Cheatwood (*1986, USA) and hand blown glass sculptures from EGS (*1974, Finland).
Jonni incorporates found fabrics into his canvases to physically embody the notion of patchworked identity, reinforced by the blurred faces painted with energetic shapes and whirlwind, vibrant colors. We are showing a series of 8 single portraits inspired by the universe of Quentin Tarantino.
With his hand-blown glass sculptures, EGS aims to carry his name in 3 letters in glass form with complex, organic shapes and layered textures, transparencies and colors. We are showing 3 different sculptures, each designed and hand-crafted by EGS in collaboration with his Estonia-based studio. As with Jonni, the sculptures are an extension of the self in an evermorphing way and also magnified by the light. The glassworks of EGS have been subject to a major retrospective at the Finnish Glass Museum in 2019 and this year a glass installation was prominently featured on the rooftop of the London-based Hayward Gallery.
We are also introducing for the first time in Germany the paintings of the Greek painter and muralist Monos Sotos who explores in a critical and achromatic way the contemporary society through portraits and places. His solo show "Persona" is currently on display at Urban Spree until October 21st.
Positions celebrates this year its 10th anniversary and is an official partner of Berlin Art Week. The Fair is open from Thursday 14.09 to Sunday 17.09 in the former Tempelhof airport in Berlin.
Urban Spree is located in booth F06.