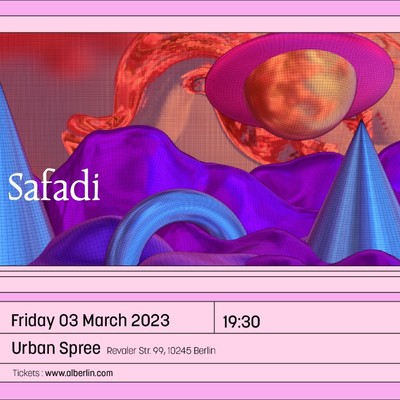 Concerts
Jowan Safadi & Rust Duo LIVE in Urban Spree - /AL\Berlin Presents
About the Concert
On Friday Night, the 03rd of March 2023, Urban Spree doors will open up at 20:00 for a marvelous line up of West Asian & North African Rock, Punk and Progressive Electro Performances!
On the same stage, on the same night, YOU will get: Jowan Safadi & Rust Duo!

Some of the more innovative musicians in WANA!
Get Your Tickets! Save The Date! Spread the Word Among Friends!
Tickets Break:-
*Limited Number of Online Tickets:
-17Euro Ticket + 2Euro ServiceFee = 19 Euro (Save 20%)
*Door Tickets :-
25 Euro
JOWAN SAFADI
With a career that began in the late 90s, Jowan's songs, including "To be an Arab", "Poor Infidels", and the protest song "The police is not Our Police", are considered iconic hits of the alternative Arabic scene. In 2012, he released the album "Namrud", which helped him break through to the wider Arab world with its socially and politically critical lyrics. In 2019, he released "Stay Away From The EAST and Sing for it", introducing a new sound of post-punk with walls of guitars and Arabic rhythm instruments. In 2021, he released the electronic album "limad" showcasing an Arabic vision of ambience.
RUST DUO
Rust is an innovative duo whose music blends the Arabic heritage of melody and poetry with modern electronic beats.
Combining elements of Arabic music with contemporary production and hypnotic vocals, Rust draws influence from the older generation of musical rebels, aiming to bridge the gap between legacy and modernity.
The Beirut-based project creates captivating soundscapes that combine the beauty of Arabic tunes and the pulsing rhythms of electronic music. The duo is determined to challenge traditional notions of Arab identity and create a sonic expression that is all their own.
Get Your Tickets! Save The Date! Spread the Word Among Friends!