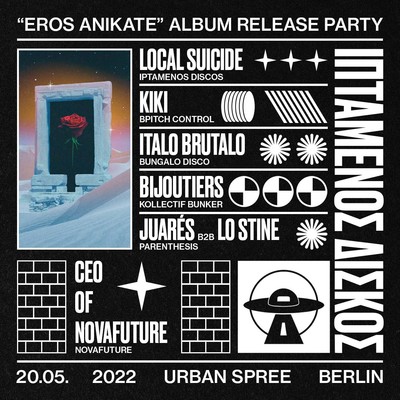 Concerts
Local Suicide Album Release Party, WISE Festival After Party
Information
Promoter
Iptamenos Discos
About the Concert
Local Suicide are presenting the fifth edition of their ΙΠΤΑΜΕΝΟΣ ΔΙΣΚΟTEK label event series at Urban Spree. This time they are celebrating the release of their debut album on Iptamenos Discos and invited their friends Kiki, Italo Brutalo, Bijoutiers, CEO Of NovaFuture & more.
Greco-German Vamparela and Brax Moody of unstoppable DJ and producer duo and couple Local Suicide do not believe in half measures when it comes to their music. In addition to maintaining careers in the music industry, and putting on some of the most infamous underground parties Berlin has to offer, these two are still finding time to make waves with their productions and drive live audiences into a frenzy not just in their chosen hometown of Berlin but across all four corners of the world. A wild fusion of new wave, acid, slow techno, EBM and post-disco is what defines the signature Local Suicide sound, and these propulsive grooves have recently been woven into releases with the likes of influential artists such as Rodion, Mijo, Theus Mago Alejandro Paz and Curses, winning them overwhelming support across the board from the music press and prolific DJs. The coming year holds a lot of promise in store for this dynamic duo, with a series of upcoming EPs, tracks in compilations and remixes marking the next stepping stone on their journey to worldwide cobra wave and techno-disco takeover.
Joakim Willich was born in Helsinki, but has now found his home in Berlin. Initial forays into making sounds with violins and pianos soon gave way to the mechanical beats of hip-hop, mixed together with more popular sounds whilst playing at school discos before he was even a teenager. With such an early start it was no surprise that before he was old enough to enter a club, Kiki was holding down a weekly residency at Helsinki's Tempo club, which was swiftly followed by another at the Smile club. A move to Berlin in 1994 to study Architecture was the catalyst for Kiki to step in to the realms of a serious DJ. Impressing the legendary Masters At Work at a Marlboro DJ competition led to him securing gigs at Berlin's three cathedrals of techno -Tresor, Pfefferbank and WMF. Gigs in Berlin and Germany were soon followed by a string of international bookings and the release of an infamous three deck mix for Sonnenhaus which led to DE:BUG worrying about the health of his, fingers.
With his profile as a DJ growing it was two short steps to releasing his first record on Ellen Allien's BPitch Control label in 2001, who through a happy coincidence he had met when the pair were double booked to play the same DJ slot. Since then Kiki has become an integral part of the BPitch family growing into a truly international artist, sharing his love of energetic and hypnotic music across the globe from Mexico, to Tokyo and making a little bit of history along the way. With an output that has been nothing short of prolific, Kiki has released a number of genre defining records both as himself and later with partners in crime Silversurfer, Sasse, Chaim, Joyce Muniz and many more. Kiki was the first artist asked to put together a mix for the now legendary Boogy Bytes series, and has been asked to provide remixes and productions for labels as diverse as Bugged Out, Playhouse and Crosstown Rebels where he had the honour of being the first artist releasing on the label. His debut album Run With Me, released on Bpitch Control, was an international success, and led to the video for "Shake Off" (a collaboration with Silversurfer and Captain Comatose) being playlisted by MTV.
The story about the CEO Of NovaFuture and the life of Jürgen, the guy behind this moniker, is strongly connected with the British band Depeche Mode and the label Mute. It started in the late 80ies when his brother already forced him to listen to Depeche Mode at the age of 8 years (living in one room) but it took years until he became a true Mode fan himself. In 1993, now fully flashed by their music, he bought the first album right on release date, "Songs Of Faith And Devotion". The singles for this album contained a few remixes with technoid sounds - a direction for the 12"s they have already started earlier and then continued e.g. in 1997 with interpretations by Andrea Parker, Speedy J, Hardfloor, Motorbass & Plastikman. As he liked these remixes but hated what people on mainstream tv called "Techno" he wanted to know more about the remix artists. While doing the same information digging for bands like Nitzer Ebb, Nick Cave, Fad Gadget and others coming from the "gothic scene", another influence from his brother, one name popped up again and again: Mute Records and its sublabel novamute. So he discovered and explored the very interesting and diverse roster of Mute and its sublabels by buying more and more stuff of bands like Renegade Soundwave, Goldfrapp, Moby, Erasure or the ones mentioned above but also his general interest in techno grew. With developing some fan websites he got in touch with a few techno guys and other people working for labels so getting connected with music scene and being a part of it. In September 2009 he started the NovaFuture Blog to share music he likes. Over the years the blog grew so mixes, interviews and many other stuff became part of it. In 2019 he has finally started his own label NovaFuture Recordings - after working for labels such as Mute Germany, Ibadan Records, Mote-Evolver and Calyx Records and co-running the Escapism label.