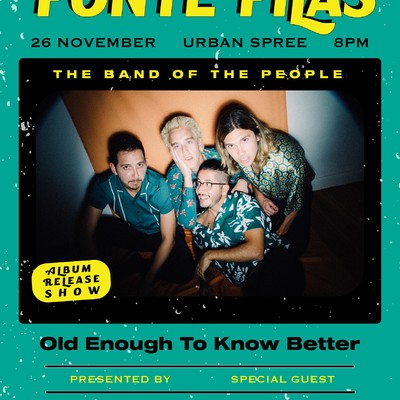 Concerts
Ponte Pilas - 'Old Enough To Know Better' Album Release Show
About the Concert
Pianola Records presents Ponte Pilas 'Old Enough To Know Better' Album Release Show

26.11.2022 Urban Spree
Doors 20:00 || Start 21:00
Rounding off a massive year for Ponte Pilas, their 26th November gig at Urban Spree will be an ecstatic rock 'n' roll celebration that will keep your toes warm all through this long winter. Celebrating the release of their debut album, 'Old Enough To Know Better', the band will bring their unique, cacophonous brand of Späti rock to their biggest headline show of 2022.
Having recorded with the legendary Gordon Raphael in the winter of last year, the band built up expectations through the release of four singles before dropping their debut album in August of this year. The album has received praise from the likes of Clash Magazine, Visions and Indie Rocks! for the variety of the songs and the maturity in the lyrics and message compred with previous releases. The apotheosis of years of playing together live and growing together, the record marks a huge milestone for the Ponte lads.
Not only will the Ponte Pilas show be unmissable, but they'll be joined for the evening by their soul brothers, Madrid's hottest jalapeños, Los Telepaticos. The sheep punk pioneers from Europe's sunnier climates will be a more than adequate apéritif for the evening's entertainment. Get your tickets now before the show sells out and you miss one of Berlin's 2022 highlights.