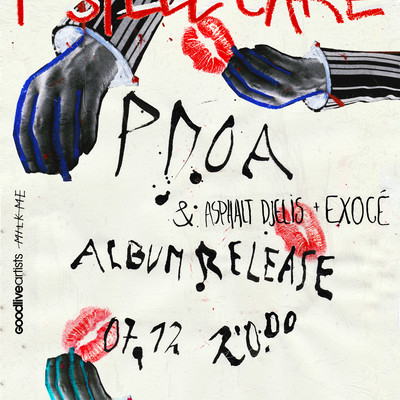 Concerts
Public Display Of Affection "I Still Care" Record Release Show
Information
Promoter
MILK ME, Goodlive Artists
About the Concert
Public Display Of Affection "I Still Care" Record Release show presented by MILK ME and GoodLive Artists
Brought together by the energies of 333, the Asphalt Djelis are here to remind us of the importance of the past and the power and importance of reconciliation in a broken world by using clear messaging and sounds from past, present and future.
The band name might already say it, this band likes to show off, they are for the voyeur in all of us. A band that is more than just music. Dance, performance, colour, sound... A band that reveals and fascinates on stage, that conceives itself as a mixed media art project and describes itself as "an act of near zen like non duality, hittin' that golden ratio between the soulful and the sinful".
P.D.O.A.'s live shows add to the nefarious and wild image that has always made Berlin a magnet for international artists, recalling the eccentricity of West Berlin's performance art and music collectives of the 1980s. Anything goes. Eccentric, wild and uninhibited. And their band history is already exciting and makes you curious for more. Arte concert, performances in South Korea and Poland, performances in galleries or the legendary Berlin 8mm Bar.
Their music reflects feelings of complete abandon, it is full of dynamics and surprise, one minute creeping slowly, the next full of post-punk attacks. An explosive and new kind of crossover. P.D.O.A. are multi-faceted and limitless, as each band member brings their own story and artistic background, which come together perfectly to create something new. Pop music, rock, electronic, dance, performance, jam sessions.
Artwork by Julio Cordey