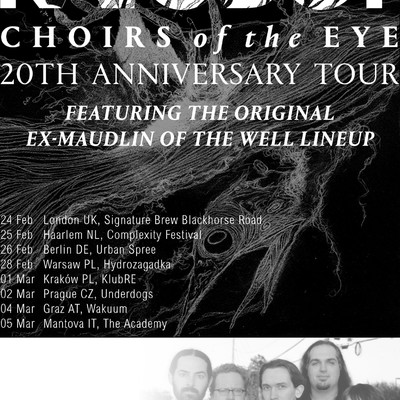 Concerts
USU pres.: Kayo Dot (Limited Quantity of Meet&Greet-Tickets availible now!)
Information
Promoter
Unlimited Sonic Use
About the Concert
Unlimited Sonic Use presents:

Dark Otherwordly Avantgarde Goth Prog
FFO: Extra Life, Maudlin of the Well, Universe Zero, Present attention: tickets are available as "normal" ticket (concert only) and as "Meet & Greet ticket" (Meet & Greet + concert afterwards). Joining Kayo Dot on this tour, for the first time ever, will be their longtime lyricist and conceptual collaborator, Jason Byron, who also penned lyrics and performed death vox in maudlin of the Well. Byron will be bringing copies of his two new books, Blasphemy (which formed the basis of Kayo Dot's 2019 narrative album), and Amalia.
The author will give a short talk about his work, with excerpts from the books, followed by an audience Q&A session and joined by Kayo Dot frontman Toby Driver.
Byron, Driver, and other Kayo Dot members will offer a meet and greet and merch signing opportunity before doors open for the regular concert event.
After the split of much loved MAUDLIN OF THE WELL, charismatic frontman Toby Driver formed the avant-garde music project KAYO DOT as a new outlet for his burgeoning creativity in 2003. The multi-instrumentalist and singer remains the only absolute constant in this band, although there are frequent lyrical contributions from his former band-mate Jason Byron throughout the extensive discography. In the following 18 years, KAYO DOT released an impressive number of full-lengths, EPs, splits, and live recordings that are all marked by considerable stylistic differences and a wide array of instrumentation that included guitars, bass, drums, vibraphone, violin, synthesizers, flutes, clarinets and saxophone. Especially in progressive circles, KAYO DOT has become a household name and is supported by prestigious, forward thinking festivals such as Roadburn. With "Moss Grew on the Swords and Plowshares Alike", KAYO DOT deliver another beautiful and essential facet of their complex musical multiverse, although the album can easily stand on its own as a most impressive piece of dark avant-garde metal.
Hardtickets in Berlin: