Jim Avignon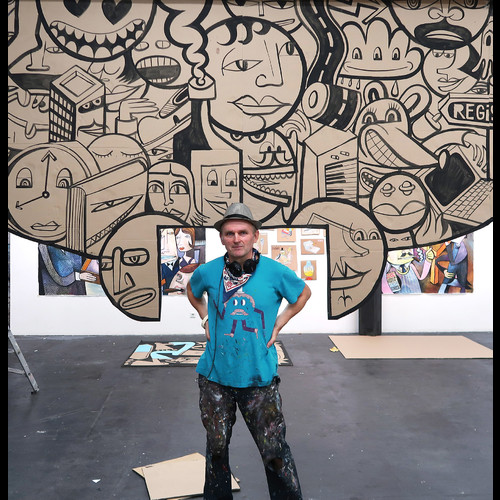 Jim Avignon is a painter, illustrator and conceptual artist. Always ready to confront the establishment he is torn between pop art, street art, Picasso on acid or simply being the fastest painter in the world. His signature style consists of vivid colours, a biting humor, unpretentious materials and a mind numbing output. His art works like pop music in DIY mode. According to the legend, the artist became stranded in the Provence city of Avignon at some point in the '80s when his car unexpectedly…
read more.
Jim Avignon is a painter, illustrator and conceptual artist. Always ready to confront the establishment he is torn between pop art, street art, Picasso on acid or simply being the fastest painter in the world. His signature style consists of vivid colours, a biting humor, unpretentious materials and a mind numbing output. His art works like pop music in DIY mode.
According to the legend, the artist became stranded in the Provence city of Avignon at some point in the '80s when his car unexpectedly broke down. He resorted to painting Dali images onto pavements, gradually raising money to repair his car. The name stayed.
In the early 90s, he became an ubiquitous painter of the techno movement in Berlin, designing makeshift clubs and Love Parade trucks.
By creating a colorful flood of affordable, rapidly-produced works, Jim disrupts the well-oiled art market and pervades it with black humor and self-irony. Avignon's images caricature the modus operandi of the art market and are also aimed at people who are bored or deterred by the gold-framed aura of so-called high art. « Good Artists Go To The Museum, Bad Artists Go Everywhere ».
Ooops, there is no results...