Martin Salajka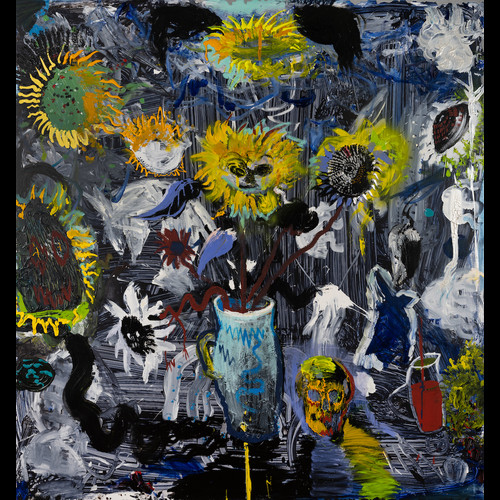 Martin Salajka (*1981) is a Czech contemporary painter. He graduated in 2008 from the Academy of Fine Arts Prague in the painting class of Michael Rittstein (2005-2008) after 3 years at the Faculty of Fine Arts in Brno in the class of Petr Veselý. Salajka grew up in the countryside in the Moravian Slovakia region, near the Hungarian border, in close contact with nature and forged a spiritual relationship with lakes, animals, ancient tales and spirits. Although Martin Salajka now lives in Prague,…
read more.
Martin Salajka (*1981) is a Czech contemporary painter. He graduated in 2008 from the Academy of Fine Arts Prague in the painting class of Michael Rittstein (2005-2008) after 3 years at the Faculty of Fine Arts in Brno in the class of Petr Veselý.
Salajka grew up in the countryside in the Moravian Slovakia region, near the Hungarian border, in close contact with nature and forged a spiritual relationship with lakes, animals, ancient tales and spirits. Although Martin Salajka now lives in Prague, he remains deeply rooted in the countryside, often exploring the nature around him and collecting insects.
Salajka's recent exhibitions include the group show Vanitas (DOX, Prague, 2020), Alone in the Crowd: Charles Baudelaire and Czech art (GASK, Kutná Hora), and solo exhibitions at White Pearl Gallery, Prague (Zombie Rituals, 2018), Galerie Industra, Brno, (Lights, 2018), Trafo Gallery, Prague (Neurosis, 2020), Villa Pelle Gallery, Prague (Mimikry, 2022) and Urban Spree Galerie (Bubo Bubo, 2023).
« Bubo Bubo » (24.03.2023 - 23.04.2023) is Martin Salajka's largest solo exhibition to date in Germany. Curated by Aneta Kapralova, the exhibition shows around 30 large-format paintings.
https://www.instagram.com/martinsalajka/
Ooops, there is no results...