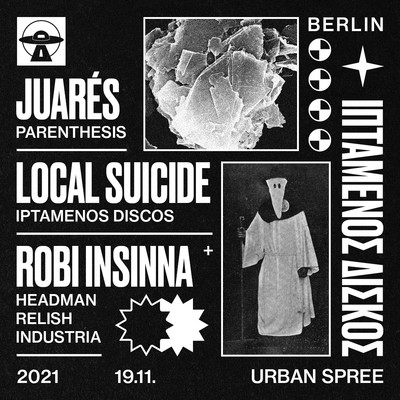 Concerts
ΙΠΤΑΜΕΝΟΣ ΔΙΣΚΟTEK /w Robi Insinna, Local Suicide & Juarés
Information
Promoter
ΙΠΤΑΜΕΝΟΣ ΔΙΣΚΟTEK
About the Concert
Local Suicide are presenting the third edition of their ΙΠΤΑΜΕΝΟΣ ΔΙΣΚΟTEK label event series at Urban Spree. Behind the decks are the legendary Robi Insinna aka Headman, Mexican selector Juarés and the hosts of the night Local Suicide.
This event takes place under 2G rules, please bring your proof of vaccination or proof of full recovery and your ID.
⇒ Robi Insinna (Headman/Relish/Industria) ⇐
Robi Insinna is a Producer, DJ, Visual Artist and Relish Label owner.
He also runs INDUSTRIA
Back in 2001 he founded the seminal Relish label in direct response to a then- dominant sound in club music. It's catalogue is as vast as it is varied and foreshadowing the music he'd go on to make himself under Headman/Manhead. Highlights are IT ROUGH, Birth School Work Death, later on, Be Loved and Dechainee. He also was busy remixing the likes of Roxy Music, The Gossip, Franz Ferdinand, The Units, Unknown Cases, Vox Low and many more.
Relish has also been busy releasing international talents and remixes such as Daniel Avery, Red Axes, Borusiade and Manfredas. The end of 2019 saw the release of Relish 100 Compilation which marks the 100th release and features all new and exclusive tracks and remixes.
First Vinyl release on Industria was - Hard Work, an EP that included a remix by Die Wilde Jagd. In 2019 the 2nd Vinyl release came out, a swap remix release w/ Vox Low. He's busy working on SASM the new project w/ Douglas J McCarthy from the legendary Industrial pioneers Nitzer Ebb (Mute) which was part of the 1st INDUSTRIA compilation including all vinyl releases thus far. There will be a new Headman Album and more compilations on RELISH.
On the more Art side of things Robi is busy with INDUSTRIA Limited exhibition and product development. The last exhibition was held in Zürich from 5.9.-12.9.2019 showing a mix of clothes, paintings, screen-prints, visuals and various products.
⇒ Local Suicide (Iptamenos Discos) ⇐
Greco-German Vamparela and Brax Moody of unstoppable DJ and producer duo and couple Local Suicide do not believe in half measures when it comes to their music. In addition to maintaining careers in the music industry, and putting on some of the most infamous underground parties Berlin has to offer, these two are still finding time to make waves with their productions and drive live audiences into a frenzy not just in their chosen hometown of Berlin but across all four corners of the world. A wild fusion of new wave, acid, slow techno, EBM and post-disco is what defines the signature Local Suicide sound, and these propulsive grooves have recently been woven into releases with the likes of influential artists such as Rodion, Mijo, Theus Mago Alejandro Paz and Curses, winning them overwhelming support across the board from the music press and prolific DJs. The coming year holds a lot of promise in store for this dynamic duo, with a series of upcoming EPs, tracks in compilations and remixes marking the next stepping stone on their journey to worldwide cobra wave and techno-disco takeover.
⇒ Juarés (Parenthesis) ⇐
Berlin-based DJ & producer diexx aka Juarés has perfected his signature cross between the electronic sounds of his new home with those of his old one in Mexico, mixing them into incredibly imaginative sonic fabrics that are both hypnotic and mesmerizing.
Hailing from the Mexican capital, diexx has convinced crowds across Mexico and Europe with an eclectic mix that combines electronic grooves with world influences, fishes in obscure territories, and ends in a wild vortex of dance.
This exceptional DJ is at his best especially at small festivals and selected gigs!
The music selection of diexx has always been a pleasure, laying a percussive grooving flow underneath surprises from all over the world, and introducing strange synths and trippy drums galore.
He has been turning more and more heads lately, showcasing a very unique and unpredictable style haunted throughout by obscure rarities.