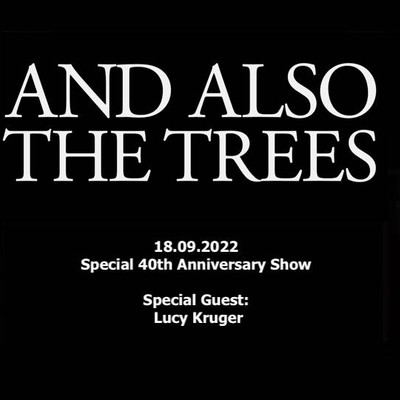 Concerts
And Also The Trees: Special 40th Anniversary Show live in Berlin
Information
Promoter
aufnahme + wiedergabe, Cold Beat Berlin, Pagan Love Songs
About the Concert
aufnahme + wiedergabe, Cold Beat Berlin and Pagan Love Songs present:
18.09.2022
AND ALSO THE TREES
Special 40th Anniversary Show
+ LUCY KRUGER (Solo Show)
AND ALSO THE TREES have been performing live and creatively developing since they formed in rural Worcestershire at the beginning of the post punk era in 1980. Other than a period in their early years when they attracted attention from John Peel, the British music press and The Cure with whom they worked and supported on tours, they have operated mainly under the radar of the media and music industry as a whole, drawing inspiration from the dark underbelly of the British countryside and touring each of their 14 albums across Europe and as far afield as the USA and Japan.
"The Bone Carver", their long-awaited new full-length album, follows their 2016 release "Born Into The Waves" an album that many considered to be their most accomplished. A rare accolade for a band of such longevity.
Within the panorama and filmic landscapes that open up from the music, stories and fragments of stories are told, about people, the spaces they occupy, their closeness and the distance that lies between them. Written and recorded over 3 years in London, Switzerland and in an ancient barn not far from their Midland's roots, founding members Simon and Justin Jones who form the core of AND ALSO THE TREES with maverick drummer Paul Hill are joined for the first time by Grant Gordon on bass guitar and Colin Ozanne on clarinet. Their inclusion brings a twist to this band's subtle yet intriguing evolution.
AND ALSO THE TREES will be playing two exclusive live shows in Berlin on Saturday, September 17th, and Sunday, September 18th at the Urban Spree in Friedrichshain. The first will be the official and exclusive album release event of their new album, "The Bone Carver", whereas the second will be a special 40th anniversary show.
======
AND ALSO THE TREES treten kontinuierlich seit ihrer Gründung im ländlichen Worcestershire zu Beginn der Post-Punk-Ära im Jahr 1980 live auf und entwickelten sich stets kreativ weiter. Abgesehen von einer Zeit in ihren Anfangsjahren, als sie die Aufmerksamkeit von John Peel, der britischen Musikpresse und The Cure auf sich zogen, die sie auf diversen Tourneen live supportet haben, hat die ewige Geheimtipp-Band, um die beiden Jones-Brüder Simon und Justin, hauptsächlich unter dem Radar der Medien- und Musikindustrie als Ganzes operiert, sich dabei von der dunklen Schattenseite der britischen Landschaft inspirieren lassen und zu jedem ihrer 14 Alben durch Europa und auch darüber hinaus getourt, z.B. in den USA und sogar in Japan.
"The Bone Carver", ihre lang erwartete neue Full-Length, folgt auf die Veröffentlichung von "Born Into The Waves" aus dem Jahr 2016, ein Album, das viele als ihr erfolgreichstes betrachteten. Eine seltene Auszeichnung für eine so langlebige Band.
In den Panorama- und Filmlandschaften, die sich durch die Musik eröffnen, werden Geschichten und Fragmente von Stories erzählt, über Menschen, die Räume, die sie besetzen, ihre Nähe und die Distanz, die zwischen ihnen liegt. Geschrieben und aufgenommen über drei Jahre in London, Schweiz und in einer alten Scheune unweit der Wurzeln ihrer Midlands, werden die Gründungsmitglieder Simon und Justin Jones, die zusammen mit dem Einzelgänger-Schlagzeuger Paul Hill den Kern von AND ALSO THE TREES bilden, zum ersten Mal von Grant Gordon an der Bassgitarre und Colin Ozanne an der Klarinette begleitet. Ihre Einbeziehung bringt eine spannende Wendung in die subtile, aber faszinierende Entwicklung dieser Band.
AND ALSO THE TREES werden am Samstag, den 17. September und Sonntag, den 18. September im Berliner Urban Spree zwei exklusive Live-Shows in Berlin spielen. Das erste wird das offizielle und exklusive Live-Release-Event ihres neuen Albums "The Bone Carver" sein, während das zweite eine spezielle 40th Anniversary-Show sein wird.
======
LUCY KRUGER & THE LOST BOYS celebrated the release of their current album "Teen Tapes (for performing your own stunts)" with performing in front of a packed house at the Lido in Berlin-Kreuzberg in April this year.
The album is a follow up to their previous record "Transit Tapes (for women who move furniture around)" – and the final in their series of tapes. The trilogy, which began with the introverted collection of lullabies, "Sleeping Tapes for Some Girls", is an intimate roadmap back into feeling.
The latest album is the much needed release. An almost naive and reckless expression of emotion – full of fuzz guitar and teen feelings. The first single "Play" revealed a determination to let go, and an appreciation for the paradox therein. It's a curious and very serious approach to playing by someone who is forsaking shyness for the pure joy of meeting the gaze of another.
On Saturday, September 17th and Sunday, September 18th, LUCY KRUGER will perform two of her very rare solo shows at the Urban Spree, without her Lost Boys band, but with the exact same energy and uniqueness which led to her impressive rise in the German and European alternative scene within the past years.
======
LUCY KRUGER & THE LOST BOYS feierten im April dieses Jahres die Veröffentlichung ihres aktuellen Albums "Teen Tapes (for performing your own stunts)" mit einem Auftritt vor pickepacke vollem Haus im Lido in Berlin-Kreuzberg.
Das Album ist der Nachfolger von "Transit Tapes (for women who move furniture around)" – und das Finale ihrer Tape-Reihe. Die Trilogie, die mit der introvertierten Sammlung von Wiegenliedern "Sleeping Tapes for Some Girls" begann, ist ein intimer Wegweiser zurück ins Gefühl.
Das neueste Album ist wiederum der dringend benötigte Befreiungsschlag. Ein fast naiver und leichtsinniger Ausdruck von Emotionen – voller Fuzz-Gitarren und Teeny-Feeling. Die erste Single "Play" offenbarte die Entschlossenheit loszulassen und die Wertschätzung für das darin enthaltene Paradoxon. Es ist eine merkwürdige und sehr ernsthafte Herangehensweise an das Spiel von jemandem, der seine Schüchternheit aufgibt, um der reinen Freude Raum zu gewähren, den Blicken eines anderen zu begegnen.
Am Samstag, den 17. September und Sonntag, den 18. September wird LUCY KRUGER im Urban Spree zwei ihrer sehr seltenen Solo-Shows spielen, ohne ihre Lost Boys-Band, aber mit genau der gleichen Energie und Einzigartigkeit, die zu ihrem beeindruckenden Aufstieg in der deutschen und europäischen Alternative-Szene innerhalb der vergangenen Jahre geführt haben.
======
Tickets for both nights are strictly limited to 200 tickets each.
Tickets sind an beiden Abenden jeweils strikt auf 200 Stück limitiert.
======
======
DJs:
Jakob (Cold Beat Berlin)
Philipp Strobel (aufnahme + wiedergabe)
Thomas Thyssen (Pagan Love Songs)
======