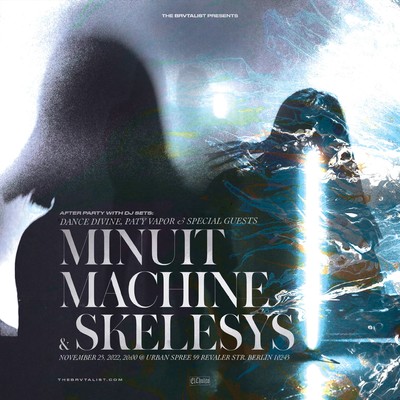 Concerts
Brvtalist Presents: Minuit Machine (live) / Skelesys (live) + Afterparty w/Dance Divine, Paty Vapor
About the Concert
The Brvtalist is proud to present prolific Parisian duo, Minuit Machine live on stage! We are thrilled to host their first appearance in Berlin in over 3 years and the duo will be supporting their stellar new album, 24, which finds them touring through Europe and North America this Fall/Winter. The project has long been one of our favorites at The Brvtalist and their fusion of cold, dark and synth wave with elements of post-punk and beyond have made them one of the most important acts across those genres today.
Also joining us on stage is Berlin-based, Argentinian rising star, Skelesys. He has emerged as one of the most exciting acts across post-punk, wave and future sounds and as a DJ, producer and live act, he can do it all. HIs latest EP Epsilon on Oraculo Records has been burning up the charts and you will definitely want to be there for this one.
After the live acts, we keep the party going with DJ sets for the rest of the night beginning with the electrifying transmedia artist, Dance Divine. The producer, DJ, performer and beyond has been setting floors on fire across Europe and her sound journeys through techno, EBM and more. We are also thrilled to welcome Paty Vapor to the lineup. The Berlin-based Brazilian has quickly made a name for herself with infectious sets moving across wave, body, electro, italo and more and she's also a co-founder of Blum, the mega Sao Paolo-based event which has become imperative in the country for this sound. After that, there's still more and you never know who might play next.
We advise to get your tickets early at: