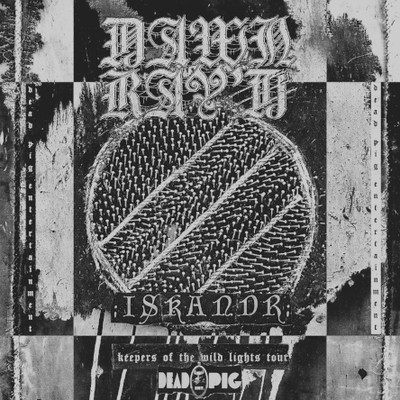 Concerts
-CANCELLED- DAWN RAY´D w/ ISKANDR \\ Urban Spree, Berlin
Information
Promoter
Swansea Concerts
About the Concert
+++ CANCELED due to resolution Dawn Ray'd +++
𝐒𝐰𝐚𝐧𝐬𝐞𝐚 𝐂𝐨𝐧𝐜𝐞𝐫𝐭𝐬 𝐩𝐫ä𝐬𝐞𝐧𝐭𝐢𝐞𝐫𝐭:
Dawn Ray´d [ UK - Prosthetic Records ]
+ Iskandr [ NEL - Haeresis Noviomagi ]
Keepers of the wild lights-Tour
► Location: Urban Spree, Berlin
► Date: 09.10.2023
► Einlass: 20:00
__________
2008 gründeten der Sänger und Geiger Simon Barr und der Gitarrist Fabian Devlin in Liverpool eine Band namens We Came Out Like Tigers. In den folgenden Jahren stieß der Schlagzeuger Matthew Broadley zu ihnen, was zur Gründung von Dawn Ray'd führte. Mit ihrer Mischung aus kompromisslosem Black Metal und wunderschönen Geigen-Melodien, gepaart mit einer offen antifaschistischen Ausrichtung der Band, konnte sich das Trio schnell einen Namen in der Szene machen und eine Vielzahl an Konzerten spielen. Ihr neues Album "To Know The Light" steht in der Tradition von anarchistischen Bands wie Crass, Godspeed You! Black Emperor, Propaghandi und Chumbawamba und führt den Stil der Briten gekonnt weiter fort. Textlich zeichnet "To Know The Light" die eigene Reise der Band durch den Anarcho-Nihilismus nach: von der Wut über die Verzweiflung bis hin zur radikalen Akzeptanz der Dunkelheit um uns herum, um schließlich zu einem neuen Verständnis von Befreiung und Freude zu gelangen. Mit einer Liste von Büchern auf dem Cover ermutigen sie den Hörer, denselben Weg zu gehen.
Begleitet werden Dawn Ray´d auf dieser Tour von Iskandr. Iskandr ist im Wesentlichen ein Projekt, welches der niederländische Multiinstrumentalist O. mit dem Drummer M. Koops seit 2016 betreibt und das bislang drei Full-Length Alben veröffentlicht hat. Musikalisch bewegen sich die Niederländer im Black Metal, doch garnieren sie diesen mit viel Atmosphäre und doomigen Elementen sowie auch einzelnen Ausflügen in den Prog-Rock. Besonders live entfalten die Songs ihr volles Potenzial und reißen den Hörer mit.
__________
__________
Tour Design by Omar Kleiss

__________