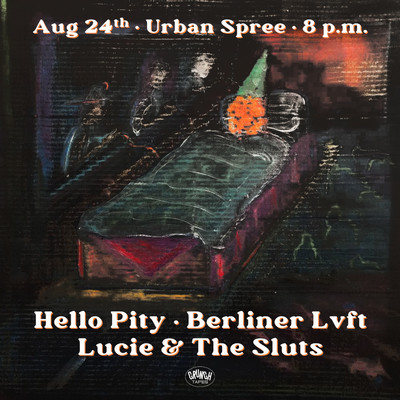 Concerts
Hello Pity + Berliner Lvft + Lucie & The Sluts at Urban Spree Berlin
Information
Promoter
Crunch Tapes Berlin
About the Concert
Crunch Tapes presents:
Hello Pity + Berliner Lvft + Lucie & The Sluts
---
Hello Pity
https://hellopity.bandcamp.com
Hello Pity is a Berlin-based band that has quickly attracted attention by generating a frenetic reaction from the crowd during their concerts. They released the DIY tape 'Goodbye Genius' in 2019 which brings to mind the gritty era of '90s grunge. Their various inspirations span from folk rock to noise which transforms their soundscapes into an artful reflection of the modern musical world. Since their brief formation they have shared the stage with bands such as Lorelle Meets the Obsolete and The Gluts and have been part of the 2019 and 2021 Synästhesie Festival in Berlin. They have been working on an album during the Berlin lockdowns and it's finally coming out via Duchess Box Records on the 13th of October.
Berliner Lvft
https://berlinerlvft.bandcamp.com
In the gutters of Berlin there's a band that howls like a banshee in the night. Berliner Lvft, they call themselves, and they're a motley crew of misfits who live to drink and get high. Four weirdos who make the devil's music with aluminum neck guitars and strange tunings that would make your ears bleed. But there's a strange beauty in their ugliness, a kind of poetry in their madness. They rage against the world, spitting out their disgust with society in every note they play. And when they play, they create a kind of magic. A raw, unfiltered energy that shakes you to your core and leaves you gasping for air. They're not here to make friends or win fans, they're here to make noise and damn the consequences. So if you're looking for something pretty and polished, look elsewhere. But if you want to feel the raw power of rock and roll, then Berliner Lvft is the band for you.
Lucie & The Sluts
https://lucieandthesluts.bandcamp.com
There is no lack of self-confidence when Lucie & The Sluts describe themselves as "lucierock" and thus immediately establish their own musical category (in addition to punk rock and post-punk, which cannot be ignored as influences). The vocals are energetic and demanding, the guitars are sometimes brute and emphasizing every free eighth note, sometimes airy and clear, decorated with a little reverb or delay and never at a loss to hide a little catchy melody.