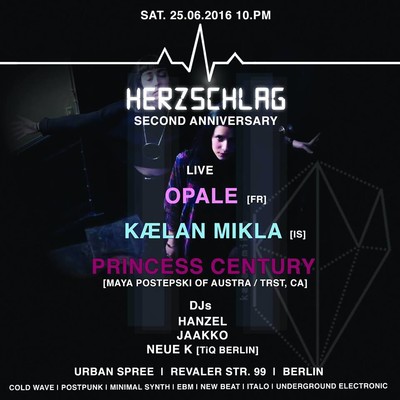 Concerts
HERZSCHLAG Second Anniversary: Opale, Kælan Mikla + Princess Century
About the Concert
25.06.2016 HERZSCHLAG second anniversary Live:
Opale
 (FR)
Kælan Mikla
 (IS)
Princess Century
 (Maya Postepski of Austra / Trust, CA) DJs: Hanzel (
Herzschlag
) Jaakko (
Herzschlag
) Neue K (
TIQ Berlin
) **************************
**************************
** ◆ Cold Wave ◆ Post-Punk ◆ Minimal Synth ◆ EBM ◆ New Beat ◆ Italo ◆ Underground Electronic ◆ **************************
**************************
**
Opale (FR)
---------------------- In opal fields, you have to pierce through layers of rock to discover a gem. Opale's first album, L'incandescent, holds a single direction throughout the 35 minute duration and is graciously supported with a band of cold and melancholic analog keyboards and soft, haunting voices. Nowhere to go and nothing to feel is the single story sung in English, French, and Spanish. Through cities of light and the waking of lost spirits, Opale will take you on a trip that may be your last. Paris based Opale released their first EP under the name Playground on Stellar Kinematics in 2012. The album included a collaboration with Ensemble Economique's Brian Pyle. Since then, Sophia Hamadi and Rocio Ortiz have recorded beautiful sounds within L'Incandescent and have toured throughout Europe, Canada and the USA.
Kælan Mikla (IS)
----------------------
https://kaelanmikla.bandcamp.com/music
Kælan Mikla is a three-piece punk/no-wave band from Reykjavík slowly getting darker and deeper with new waves and more instruments. The band consists of three girls who perform their own poetry and have been described as an avant-garde, fresh breeze into the Icelandic music scene in the past two years. The band was formed after winning first place in a poetry slam held by the city library in January 2013. They have since then played multiple festivals as well as touring Europe. Kælan Mikla are known for their dark melancholic sound, most of the songs consisting only of heavy bass, drums and screams with some softer, melodic synth parts in-between. The band lyrics focus on inner confusion and their intimidating stage performance, often including performance art of some sort, is bound to leave the crowd in a melancholic trance. "This trio has moved from being a post-punk outfit of bass, drums and vocals into bold new territory. Chilling, neurotic synth loops paired with ass-end bass and some positively haunting vocals, their sound has evolved into something darker, stronger, capable of taking us from the everyday world into the gauzy barrier between us and our nightmares. Like watching a forgotten reel of film shot at a haunted house, you come away from seeing them live wondering if it's really over, as you can still feel icy fingers reaching towards you."
Princess Century (CA)
----------------------
http://princesscentury.com/
Maya Postepski never stops. An active member of the Toronto music scene, she has been making music for over 10 years, currently as part of electronic group Austra (Paper Bag Records / Domino). She is a prolific remix artist, DJ and she co-wrote and produced TRST with Robert Alfons as Trust (Arts & Crafts). This project is the outlet for her genre-crossing experiments that take us on a journey through minimalist cosmic disco psychedelia, crossing through glacial poly-rhythmic territories soaked in dark dripping goo. Shooting stars and icicles glimmering weave a reflective thread through each track while mechanical pulses ground soaring delicious keyboards that could melt the heart of a cobra. Do not be afraid! Close your eyes and allow the warm synthesizer liquid to seep through your veins and take you into a far away galaxy of love, lust and passion.
FB Event