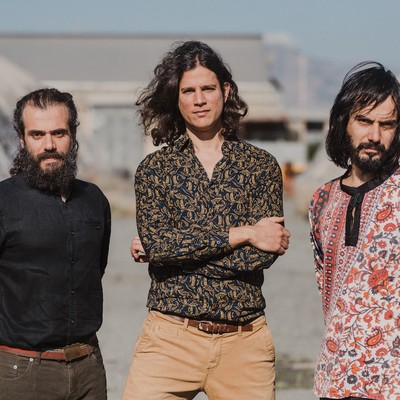 Concerts
Monsieur Doumani, DJ Yamen Mekdad, special guest: Ozan Ata Canani (solo)
About the Concert
Monsieur Doumani (Glitterbeat, Nicosia)
DJ Yamen Mekdad (Makkam Collective, Syrian Cassette Archive, London)
very special guest: Ozan Ata Canani (Fun In The Church, Leverkusen)
Tickets: 15euros at the door
Important: This is a 2G event.
Wow, this will be something! Let's explore the wild and wonderful sonic worlds of the eastern Mediterranean:
Monsieur Doumani, hailing from Cyprus, are the latest sensation of the much-lauded Glitterbeat label. They are deeply involved with the rich cultural traditions of their home country, while their playfulness and experimentation gain them a sound of their own. Or, as they prefer to humbly put it: "Monsieur Doumani compose Cypriot songs that draw inspiration from contemporary Cypriot society as well as from the shaky conditions of our era."
The all-acoustic Doumani limit themselves to an odd instrumental line up of wandering guitar, Tzouras (Greek string instrument) and trombone (!), but are still able to adapt the sound and spirit of a psychedelic jam band in full flight, waving their freak flag high on the best drugs available: "Monsieur Doumani specializes in smoking, drinking Grappa and playing music from the island of Cyprus."
Yamen Makdad completely blew us away with his set of rare seven inches from Syria and the Arab world at the Syrian Cassette Archive launch event a couple of weeks back, which is one of the various projects he is involved with. Needless to say, we needed to bring the music researcher, DJ and radio host based in London back. Since he is an avid collector of folklore from all over the world, we are more than ready to be surprised... again.
Our very special guest, Ozan Ata Canani, was born in Marash / Turkey somewhen in the early sixties of the last century. Since 1975 he resides in Germany, and as the sole inventor of Turkish rock'n'roll sung in German, he has done an awful lot to make us potatoes understand the rich musical cultures of the orient. Since the release of his debut album "Warte mein Land, warte" this spring, the former child prodigy of the saz is experiencing a breath-taking comeback, which major media outlets, newspapers and even TV covering his story and the man himself playing all across the country.
This evening is a strictly unofficial contribution to the 25th anniversary of planetrockbooking, the booking agency of hearts.