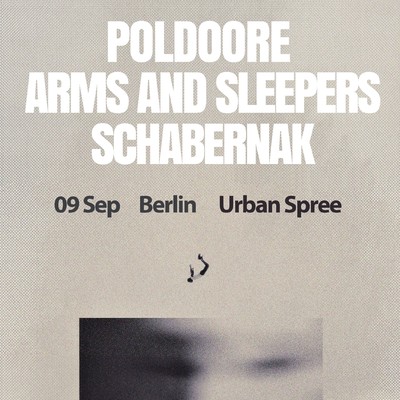 Concerts
Poldoore + Arms and Sleepers + SchaberNak at Urban Spree Berlin
Information
Promoter
Crunch Tapes Berlin
About the Concert
POLDOORE (Belgium)
Thomas Schillebeeckx aka Poldoore is a Belgian-born music producer and DJ whose work is characterised by a dreamy, melancholic feel.
With a total of over 82 million Spotify streams, Poldoore's music has always appealed to a broad demographic around the world. Through the meticulous use of his home studio full of analog curiosities while also relying on sampling and chopping up live instrument recordings, Poldoore has over the years developed a unique sound that seamlessly bridges numerous musical styles and eras, and draws the listener into a constantly moving auditive soundscape.
As someone who has always been wary of the hyper-connectivity and demand for extraversion which defines the contemporary music world, Poldoore spent most of his days fine-tuning his production skills in his homebase Leuven after the release of his The Day After LP in 2016, but he quickly outgrew his "bedroom producer" moniker as he began to establish himself as a skilled artist. This led him to not only do remix work for household names such as Emancipator, Wax Tailor, Talib Kweli, Selah Sue and Hermitude.
His latest LP Soft Focus was released in January of 2022 and is filled with the sound of various synthesizers and old machines gurgling and having fun with the carefully selected sample chops and instrumental takes, but with a constant longing melancholy building in the background. It's the sound of the many sides of Poldoore finally fusing together: the passionate crate digger, the analog enthousiast and the considered composer.
ARMS AND SLEEPERS (USA/Berlin)
Arms and Sleepers is the electronic music act founded in Boston, Massachusetts in 2006, formerly comprising Max Lewis and Mirza Ramic. In recent years, Lewis has become a less active member leaving Arms and Sleepers to continue with Ramic as the sole official member. Over the years, the group has amassed over 30 releases, 2,000 live performances, and countless TV and Film music placements in their 15-year history. 2020 was Arms and Sleepers' busiest year yet, with the release of a 6-part conceptual music series that included 3 full-length albums and 3 EPs. In 2021, Arms and Sleepers celebrated its 15th anniversary with a slew of re-releases and anniversary editions. 2022 will see the release of a new full-length record, Arms and Sleepers' 13th official studio album.
Since 2006, the group has explored trip-hop, electronica, downtempo, ambient, hip-hop, and subtle pop with deftness and grace.
With a prolific and busy decade and a half, Arms and Sleepers has not showed any signs of slowing down. 2022 will bring a new album and a return to active post-pandemic touring, in addition to continued remix and collaborative projects. Such high rate of creative output has also coincided with Ramic co-founding Future Archive Recordings, an artist-run record label that has released music from the likes of Blockhead, Yppah, Sun Glitters, il:lo, Poldoore and others. With a long and active history in the music industry, Arms and Sleepers has carved out its own unique place within the underground electronic music scene, building a loyal following along the way.
SCHABERNAK (Germany/France)
SchaberNak is the new project from Nak (Zero Absolu, ex-SPORT) created in 2019.
A Journey between trip-hop, ambient and downtempo. Heartbeats to the pulse, lovesongs with no lyrics. The new album (#) to pronounce 'hashtag' entre parenthèses, it's how we digitalized ourselves during the pandemic. It's a musical photography from the lockdown.