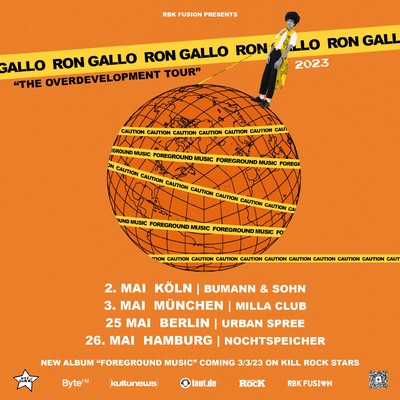 Concerts
Ron Gallo - The Overdevelopment Tour 2023 - Urban Spree Berlin
Information
Promoter
GreyZone Concerts
About the Concert
RBK Fusion, Classic Rock, Laut.de, BYTE FM, Kulturnews & Greyzone Concerts present:
Ron Gallo
The Overdevelopment Tour 2023
25.05.2023 | Urban Spree
++++++
RON GALLO hat sein brandneues Studioalbum "FOREGROUND MUSIC" angekündigt, das am 3. März 2023 auf Kill Rock Stars erscheint. Wie kann man im Jahr 2022 noch leben und nicht ängstlich sein? Zusammen mit einem offiziellen Video, in dem das Haus einer Frau ausgeraubt wird, während sie in Ron Gallos VR-Welt eintaucht, zeigt die schwungvolle Garage-Rock-Leadsingle "FOREGROUND MUSIC", dass die Existenzkrise normal ist und immer noch nach einer anständig lustigen Zeit klingen kann.
Ron erläutert: "Dieser Song ist ein Strom des Bewusstseins über die große Vielfalt von Ängsten, die das heutige Leben bestimmen. Eine Ode an all die 3 Uhr morgens, an denen ich in Panik aufgewacht bin - vom Ende der Welt bis zum Bedauern über alles, was ich in meinem Leben je gesagt oder gemacht habe. Vielleicht stimmt etwas mit mir nicht, oder es ist ein Amerika-spezifisches Problem, aber wie kann man in diesem Moment am Leben sein, ohne Angst zu haben? Dieser Song kommt vielleicht dem am nächsten, was in meinem Kopf vorgeht - lachend durch die Krise - daher denke ich, dass es ein guter Name für das Genre der Musik ist, die ich mache."
Auf seinem neuen Release schreit Gallo die Bauträger an, die Wohngegenden in unscheinbare AirBnB-Werbungen verwandeln, die Konzerne, die bestimmen, wie viel Musik kostet, und die Extremisten, die eine Apokalypse der rassischen und zivilen Zerstörung heraufbeschwören wollen. Er konfrontiert die Schurken unserer Gesellschaft und hilft denen, die von ihnen erdrückt werden, indem er einen Weg findet, über die Absurdität des Ganzen zu lachen. Im Laufe der 11 Songs zeigt Gallo, was Ann Powers einmal als "literarische Elektrizität" bezeichnet hat. Er bewegt sich von Fuzz zu Lounge-Jazz zu ausgeflipptem Pop zu Post-Punk und wieder zurück zu ausgelassener, wirklich FUN- Rockmusik, während er alles und jeden aufs Korn nimmt. Er zielt auf männliche Ansprüche, das Zeitalter der Angst, Apathie vs. Aktion, Gentrifizierung, Narzissmus, Einzelhandelstherapie, Fremdenfeindlichkeit, die Angst vor zukünftigen Generationen, Rechtsradikale, Kapitalismus, Klimawandel und die Erfahrung, einen geliebten Menschen zu haben, der süchtig ist.
Trotz des Chaos verleiht Gallo dem Album einen freudigen Charme, der von einer aufrichtigen Liebe zu den Menschen und dem Schutz der Dinge, die uns heilig sind, herrührt. Liebe zwischen Gallo und seinen Zuhörern, zwischen Gallo und dem Anschlagen einer Gitarre, zwischen Gallo und der Welt. Am Ende von FOREGROUND MUSIC kommt Ron Gallo zu einer erschütternden und lebensbejahenden Schlussfolgerung: "Die Welt ist völlig im Arsch, aber das Universum ist in dir."
Gallo hat sich eine glühende und treue Live-Fangemeinde erspielt und teilte die Bühne mit Künstlern wie Spoon, Parquet Courts, Ty Segall, Hurray For the Riff Raff, Twin Peaks, The Black Angels, Thee Oh Sees, Caroline Rose, Wilco, J. Mascis, Courtney Barnett und Post Animal. Im Rahmen seiner The Overdevelopment Tour durch Europa im Mai 2023 kommt er für vier Shows nach Deutschland.