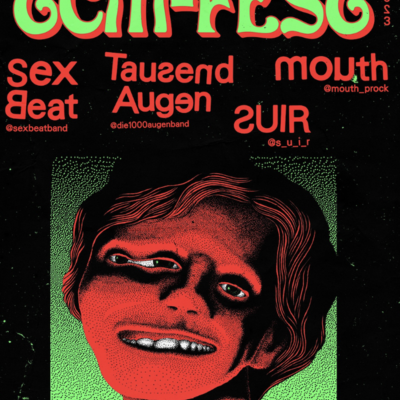 Concerts
TCM RECORDS FESTIVAL feat.: ✶ TAUSEND AUGEN ✶ SUIR ✶ SEX BEAT ✶ mouth ✶ Urban Spree - Berlin
Information
Promoter
GreyZone Concerts
About the Concert
TCM RECORDS FESTIVAL feat.:
✶ TAUSEND AUGEN
✶ SUIR
✶ SEX BEAT
✶ mouth
02.December 2023 ✶ Urban Spree
~~~
Doors: 18h | Start: 19h
Presale: 22,00€ plus fees
Tickets: soon
~~~
For 12 years, This Charming Man Records has been reliably supplying the scene with new music and consistently good releases. In the process, TCM has been digging through the mineral resources of the punk and indie scene, striking pure gold time and time again. Between bold post-punk explorations and scorching noise rock excesses, TCM stands for sonic diversity like no other German label.
After a few years break, the label goes on tour again and presents the broad spectrum of the roster for the first time in Berlin.
A wild mixture of post-punk, krautrock, prog and shoegaze, and four bands that all stand for intense live shows.