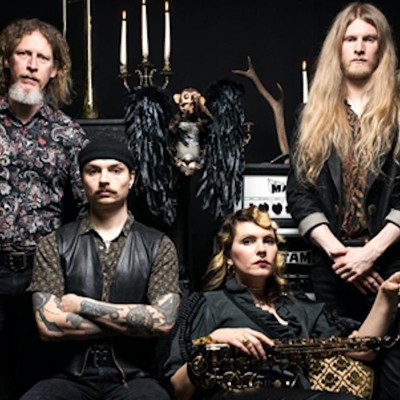 Concerts
USU pres.: Ursular - Record Release Show - Support: Haeresis - Urban Spree
Information
Promoter
Unlimited Sonic Use
About the Concert
USU pres.: Ursular - Record Release Show - Support: Haeresis - Urban Spree - 25.08.2023
"Preta" Record Release Show
Ursular - B | Odyssey Music Network
https://ursular.bandcamp.com/
Psychedelic Sax-o-Doom
FFO: Messa, Monarch, Acid King, Black Bombain + Peter Brötzmann
Nach einer selbstbetitelten EP und dem Live-Album "Babylon" erscheint mit "Preta" nun das heiß ersehnte erste Studioalbum der vier Berliner:innen.
Die Single "Siren" inklusive Musikvideo bietet bereits einen Vorgeschmack auf den Langspieler, der sich durch Babett Kazzers einzigartige Stimme, das verzerrte Saxophonsowieschwere und beeindruckende Gitarrenriffsauszeichnet. Das Album ist in schwarzem undtransparent blauem Vinyl sowie als CD-Digipack erhältlich."Getrieben von einem unstillbaren Hunger auf das Leben und der Illusion schier unendlicher Möglichkeiten schwanken sie durch die Welt.
"Mit beiden Händen stopfen sie sich in den gierigen Schlund, was ihren ziellosen Weg kreuzt, ohne zu ahnen, dass nichts die Leere füllen kann, die materieller Überfluss hinterlässt. Das Echo, das eine Welt voller Versuchungen in den Brachen der rastlosen Seelen dieser Hungergeisterhinterlässt, vertonen Ursular: Ein unerbittliches Schlagzeug treibt die schneidende Gitarre und den donnernden Bass vor sich her; einem verheißungsvollen Saxophonsäuseln entgegen. Geheimnisvoll bis drohend erzählt der Gesang die Geschichten der Hungergeister. Wütend, verzweifelt, verführerisch, verheißungsvoll – Preta."
German black metal act Haeresis is devoted to balancing ethereal atmospheres and raw energy into a blend that is unparalleled. An enduring expression of existential turmoil, profound discontent and ferocious power forms the foundation for the cathartic act of deliverance that Haeresis embodies.
Above all, the band is well known for their immersive live shows, which are characterized by the intense fusion of light and an unrelenting assault of sound.
Haeresis is a testament to the unwavering power of black metal and a vigorous statement of will.
Visuals by Sector 7G