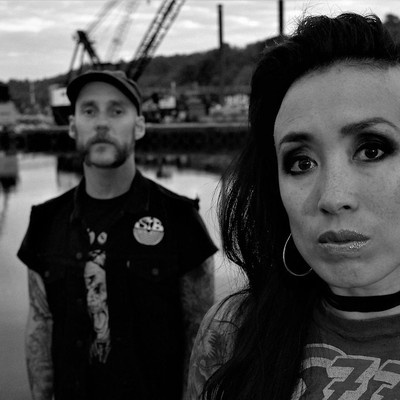 Concerts
USU pres.: Year of the Cobra + The Necromancers - Urban Spree - 13.09.2023
Information
Promoter
Unlimited Sonic Use
About the Concert
Unlimited Sonic Use present:
US-Doom-Stoner-Powerhouse Year Of The Cobra are coming back to Europe with their highly acclaimed album "Ash And Dust" on Prophecy Productions and to present a new release
Seattle's YEAR OF THE COBRA became a rapidly ascending, radiant star in the horizon of the doom/stoner-scene for a reason:
This powerhouse duo uses their limitations in instrumentation to their advantage. Leaving space for every instrument to breathe and to shine, they create a vast, larger than life sound aesthetic. Their songs drift relentlessly from classic epic doom laments into oppressive heavy riff architecture; from catchy, almost upbeat rock moments into transfiguring psychedelia.
Signed on Ripple Music (USA), The Necromancers's first album « Servants Of The Salem Girl » put the young band as one of the heavy rock revelations of the European scene not to be missed. Drawing on antiquated inspirations in mythology, religion, fantastical tales from European literature and an obsession for classic horror cinema, The Necromancers are a curious alliance of musicians, and together are a strange beast to behold. Experimenting with progressive rock, heavy psych and the 70s pagan/proto-metal of bands like Black Sabbath and Coven, they take these influences, throw in the urgency of NWOBHM
and douse the entire lot in lysergic illusions.
Between several European tours, the band makes a lasting impression during Desertfest Berlin/London Festivals, Keep It Low and Up in Smoke, with a culmination during Hellfest 2019.
After a last tour with Belzebong (PL), the band lunge back into writing during the pandemic and compose their third album with a new singer, Basile Chevalier-Coudrain.