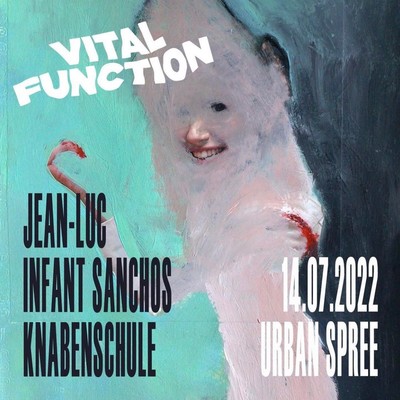 Concerts
VF6 Jean-Luc, Infant Sanchos, Knabenschule, Emmanuelle 5 (Dj Set)
About the Concert
++++ SOUND OF MACHINES, VOCAL CHORDS AND INSTRUMENTS PLAYED BY HUMANS •̀.̫•́✧ ++++
Jᴇᴀɴ-Lᴜᴄ (France, Switzerland)
Listen
https://youtu.be/qv1ES5vyYxM
Jean-Luc can't count, sometimes three, sometimes two. With an opus released on the Dutch label Knekelhuis, the band has already proven itself on stage (Guess Who Festival, Garage Mu Festival, Closer Music, ...). A loony and emotional burlesque where the rattle of the microphone intertwines with the melodies and rhythms coming out of the analogue synthesizers.
Iɴғᴀɴᴛ Sᴀɴᴄʜᴏs (Berlin)
Listen
https://youtu.be/jxn3165VdhI
Drum computers and synthesizers. Dull bass lines, frustrated screams, undemanding but effective sequences. From the bottom of the creative milieu, two renegades, from Neukölln, out of boredom.
Kɴᴀʙᴇɴsᴄʜᴜʟᴇ (Mannheim)
Listen
https://youtu.be/8nEfa9UKHyA
Born in the rubble and ashes of Euternase, the two tormentors Bobby Serpent and Amor make their way through Germany's inconsequential musical landscape to challenge and simultaneously caress the soul hams of hedonistic youth with their catchy rhythms and ever-repeating slogans.
Eᴍᴍᴀɴᴜᴇʟʟᴇ 5 (DJ Set)
Listen
https://www.mixcloud.com/MILK.../milk-me-radio-emmanuelle-5/
Emmanuel Hubaut is a french singer and musician who has recorded a dozen albums and who has performed the world over with his differents bands (Les Tétines Noires, LTNO, Dead Sexy, EHB). Post-Punk, Batcave, Industrial, Electro, Experimental Noise ... a diverse range of approaches to music, born out of an open attitude to unlikely and unclassifiable experimentations.
Painting by Joan Lalucat
Graphic Desgin by Guillaume Jolicoeur