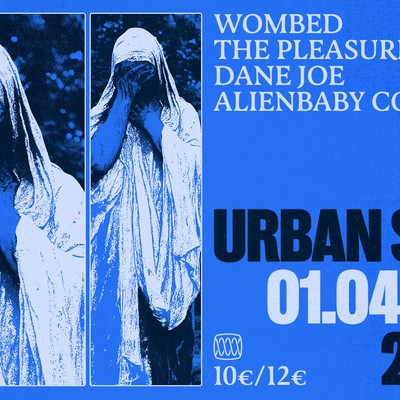 Concerts
WOMBED - THE PLEASURE MAJENTA - DANE JOE - ALIENBABY COLLECTIVE
About the Concert
Dreamy, deranged & dangerous musics, straight from the pit of Berlin's stomach.
Wombed // The Pleasure Majenta // Dane Joe // Alienbaby Collective
Live at Urban Spree // Saturday 01 April 2023
🅧
𝗪𝗢𝗠𝗕𝗘𝗗
/wu:m:ed/
Wombed is an experimental music project led by Berlin-based, Cape Town-born musician, André Leo (formerly of dream noise duo, Medicine Boy).
Birthed in the murky waters of 2020, the debut EP, Still Nothing, is described by Leo as 'cough syrup blues' and is a merger of his love for acoustic roots music and washed-out, unsettling ambiance.
2021's Skinning Music is a blurry sound collage of dictaphones, Mellotrons, tube amps, guitars and tape hiss.
These two self-produced EPs mark the closing of the first cycle of Wombed with a forthcoming record in the final stages of post-production, drawing more on Leo's adoring and inquisitive relationship with discordant, noisy rock 'n roll music.
It was in the process of putting these songs together that Francis Broek joined the band on drums, with Adam Hill (bass) and Hezron Chetty (violin) soon following.
The quartet made their live debut with a sold-out, double headliner with Errorr - another of Andre's projects - at Urban Spree in October 2022 and cannot wait to return.
FFO: Bad Seeds // Sonic Youth // BRMC
🅧
𝗧𝗛𝗘 𝗣𝗟𝗘𝗔𝗦𝗨𝗥𝗘 𝗠𝗔𝗝𝗘𝗡𝗧𝗔
The Pleasure Majenta is a South Pacific psychic noise outfit from New Zealand, residing in Berlin.
Commonly known as 'The Pleasure', they play a heavy blend of dark cowboy song-writing and industrial pulsating rhythms,
tip-toeing between beauty and chaos.
The trio's latest release 'Looming, The Spindle' (DedStrange Records) takes its cues from the heavier sides of The Birthday Party, Swans & The Fall, shaping a terrifying and sublime mix of noise, broken electronics and guitar feedback that begs to remain untamed.
🅧
𝗗𝗔𝗡𝗘 𝗝𝗢𝗘
Adi's solo project "Dane Joe" is a project of ambient/creepy-pop using field recordings, electronic drums, spacy synths, distorted surf guitar and witchy vocals.

Dane Joe creates dark poetry with a soundscape based on urban sounds (using samples of public transpiration and washing machines) along with half-danceable electro beats and heavy synth sound.
In the last few years Dane Joe has been active as a bass player/singer in the Berlin based band "Jealous", as the co-founder of the label "Baby Satan Records", as a sound designer of the dance group of "Thikwa Theater" and as a DJ.
Dane Joe's next album "Nausea" is due to release in 2023, "Dane Joe travels down a path of doped up digital poetry, layered with synths and drones. It's the perfect soundtrack to her Lynchian like avant-garde nightmares" Noisey-Vice
🅧
𝗔𝗟𝗜𝗘𝗡𝗕𝗔𝗕𝗬 𝗖𝗢𝗟𝗟𝗘𝗖𝗧𝗜𝗩𝗘
Alienbaby Collective is the solo-project of guitarist Liú Mottes, (currently playing with Lucy Kruger & The Lost Boys). Using mainly guitar and vocals she moves between songs and improvisations stitching them together with textures, short loops and stardust. Expect a set full of moody drones and sound collages, soft words and waves of tender noise.