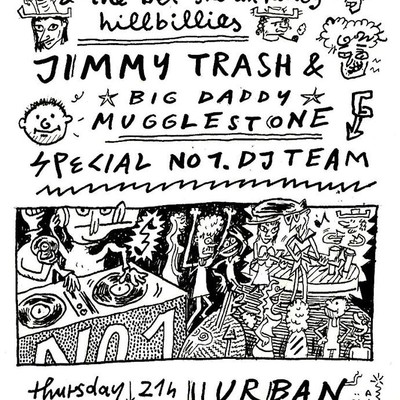 Events
Charlie Megira & The Bet She'an Valley Hillbillies // Jimmy Trash & Big Daddy Mugglestone // SPECIAL NO.1 DJ TEAM
Information
Organizer
Jimmy Trash // FB Event
About the Event
It is with great treasure and delight to present the most inspiring modern musician of our time,
Charlie Megira
and his newest project, The Bet She'an Valley Hillbillies, to the stage of Urban Spree. Charlie's mix of lo-fi appalachian rock'n'roll (Feathers/Askins),
Oscar Wilde
vocals (if he was a charming mumbler....), baroque orchestration (theme and vibration-variation) and minimal 80s aesthetic (less is more, unless its an encore...) is a unique and special occasion wherever you are from, and Berlin is lucky to have him. His previous record with the mighty
MODERN DANCE CLUB
is now on its 4th pressing on Greg Ashley's Guitars and Bongos Records. Supporting The Bet She'an Valley Hillbillies is another new project:
JIMMY TRASH and BIG DADDY MUGGLESTONE
Jimmy Trash
(Trashfest/Gunpowder Temple of Heaven/Jimmy Trash Orchestra) and
Big Daddy Mugglestone
(Assdroids/Sacred Travellers/Cheap Paper Toys) play songs inspired by ancient Persian poets, Voodoo rhythms, Zoroastrian Creed and Hermetic Philosophy. Combining cyclical music and ritual with the chanting of sacred texts, they engage the audience in a rhythmic orgy of fear and fortune, death the release. AND for the afterparty, the panafrican psych funk groove sounds of the Nigerian/Australian freundschaft of
SPECIAL NO.1 DJ TEAM
!