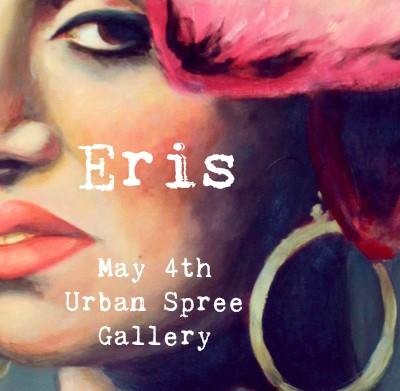 Events
Eris - An All Female Art Presentation
Information
Organizer
Bad Bruises & Krousky Peutebatre Pictures
About the Event
Eris - An All Female Art Presentation
In ancient Greek mythology, Eris was the Goddess of Chaos – The eldest daughter of Nyx (The dark night) – The rebellious daughter, born of the night & causing discord and strife. Berlin is a city where the multitude of creative scenes converge constantly and we shall be embracing this on the night. Featuring exhibitions of visual art, performance, photography, music and fashion from an all-female, Berlin based selection of artists. Entry is via a voluntary donation basis and will be split between the artists. Gallery opening at 8pm - Live Art Performances: 9:30pm
Viva Lamore
10 -
Lello Li
10:30 -
Julietta la Doll
11:30pm -
Belen Resnikowski
12:30 -
Elle Peril
DJs: 8 - 10: Jen Black 10 - 12:
S A NN I
12 - 2:
Laura de Vasconcelos
Featuring:
Alana Richards
http://alanarichards.co.uk/
Alana Richards presents a new series of figurative portraits. Rather than bestowing a statement or concept, she creates emotional value in her paintings. Using slow-drying oil paint in a traditional manner building up layers, she gives the portrayed a contemporary charisma of mixed messages to the viewer.
Jessine
www.jessine.com
Art is the language spoken of the lonely ones.
Mayliss Salles
A.K.A White Rabbit
mygonzotrip.com
The Chaøs Chrønicles
"I don't mind living in a man's world, as long as i can be a woman in it". Machism, violence, war. The men's world I living in. In the chaos of the street they may hear the sound of the heels of a women wandering cities around the world. The glamour nomad of the new 20's I start to be.
Sarahlikesprettygirls
http://Sarahlikesprettygirls.tumblr.com/
Erotic analogue photography by Sarah Zak.
Dionne Kitching Illustration
www.dionnekitching.co.uk
Illustrator and Print maker, Dionnes work is about patterns and nature, and patterns in nature, and our connection to nature. Belen Resnikowski
Telaraña Radioactiva
Belen Resniowski is a female artist working in Berlin using a selection of different mediums such as collage, video, animation, instalation and mix media with a critical view of social, political and cultural issues. Playing with the destruction, transformation and profanation of symbols, as liberating act of catarsis.
Olivia Berger :.
www.olivia-berger.com
Olivia Berger is a Mauritian-German autodidact artist. A playful mind between realistic and abstract interpretation of mystical and metaphysical thoughts.
Natassja Velociraptor
www.montassj.com
http://montassj.tumblr.com/
https://www.instagram.com/montassj/
A Design Ninja/Visual Viking, inspired by: Film Noir, Femme Fatales, Nordic Mythology, Doom, Cheese and Irony. Most of my work 'dark-hours-inspired' art is created with acrylic paint on canvas, salvaged pre-loved skateboard decks, used snowboards and other recycled objects.
Dánae Cuesta
https://www.instagram.com/danae.cuesta/
Shooting exclusively on film, dánae uses photography as a political weapon and the internet as a platform for deterritorialising the segmentation of the public and private space, portraying her friends, lovers and herself in experimental practices in which new spheres of action and subjectivation are created through an exploration of intimacy and desire as a dynamic power that stimulates processes of transformation and reappropiation of the flows of gender.
Julietta la Doll
Drawn to the glamour of old world wonders a wide-eyed Lolita raised in East Berlin took her wanderlust to the road. Creating burlesque and sideshow spectacle performances that embody a variety of inspirations from many timeless fantasies of dangerously desirable women. Fulfilling a dream to runaway and join the circus. Our sideshow sweetheart has more tricks than just unveiling her beauty to command the imaginations of audiences. Exposing secrets separated between fine lines of pleasure and pain.
Viva Lamore
Viva Lamore is a performance artist and published art model from New York City whose bump and grind comes with a twist. A teenage runaway, she lived in a cage in the basement of a theater and worked at Coney Island Sideshows by the Seashore as Blade Box Girl and Electric Girl.
Lello Li
https://lelloli-rope.tumblr.com/
Ropemodel, Rigger and Performer from Berlin.
Laura de Vasconcelos
Zona_berlin
soundcloud.com/lauradevasconcelos
From Disco, Post-Punk and Rock to a bassline-driven Techno and House reduced to their essence influenced from mainstream pop via club music in the broadest sense. Born brazilian, 2007 saw Laura relocating to Berlin to further her focus on DJing tailoring her approach to each show with a meticulous ear. From being lost in reverie, total seriousness, pure delight, wit and grit, Laura is surely one of the most independent, versatile and inspiring characters in today's club scene. Jen Black
www.modern-movement.com
www.brave-exhibitions.com
www.endorcism.org
www.jenniferblack.net
JEN BLACK (aka Blix) is the founder of Modern Movement, established in Berlin in 2010. She is also co-founder of Brave Exhibitions (London/Berlin) and endorcism (Berlin). She has been internationally hosting and DJing Cold Wave, Minimal, No Wave, Post-Punk, Experimental and Avant-garde events with live acts and performances since 2008. Her publication Modern Movement is an exclusive document of today's Berlin underground.
S A NN I
SPRINGSTOFF
soundcloud.com/sanniest
Trans*feminist multi-artist Sanni brings in her new DJ set house and techno mixed with influences that go from classic to indie rock. Self-produced tracks and live vocals included.
FB Event