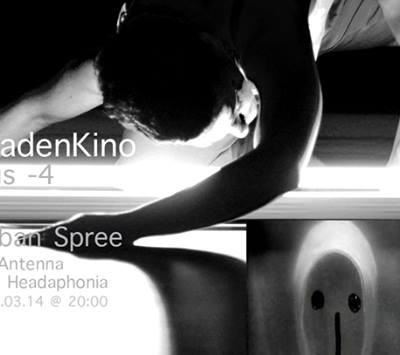 Events
Film & Performance: La Antena - Headaphonia
Information
Organizer
Nomadenkino & Celsius-4 // FB Event:
About the Event
Nomadenkino & Celsius-4 - Explore your mind -
A Film & Performance Night in Urban Spree Gallery
"LA ANTENA"
by Esteban Sapir
La Antena
brilliantly blends live-action and animation to create a beautiful expressionist vision which pays respectful homage to the early days of cinema whilst also having great fun with its conventions. Director Esteban Sapir's screenplay conveys an intelligent message about the power of the media to hypnotise and suppress the masses; a warning all too pertinent when it comes to the history of his home country, Argentina.
"HEADOPHONIA"
piece for dance, video, programming, musical instruments and soundscape A project by "CELSIUS-4" artist group.
Headaphonia is a procedure to develop forms that do not follow logical criteria, but are based only on subjective ideas and formal parallels, which invite the viewer to make personal associations. Multilayered lights and sounds arise in which the fragility and instability of our seemingly certain reality is challenged.Headaphonia deals with the movement of the human body, mind and light. By doing so, new sequences are constantly created which reveal an inseparable relationship between motion and sound.