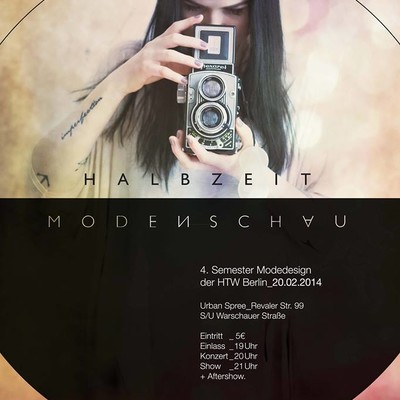 Events
HTW Halbzeit Fashion Show
Information
Organizer
Halbzeit Modenschau // FB Event:
About the Event
The 4th-semester fashion designs students of the HTW Berlin are presenting their works at Urban Spree Galerie. Doors: 19:00 Konzert: 20:00 Steev Lemercier + Mary Ocher live Modenschau: 21:00 + Aftershow party
Im Rahmen des Hochschulfachs Modepräsentation unter der Leitung von Prof. Anke Schlöder, wird jede Saison von den Viertsemestern des Studiengangs Modedesign der HTW Berlin eine Modenschau eigenständig auf die Beine gestellt.
Die jungen Kreativen sollen sich hierbei vertraut machen mit den branchenspezifischen Abläufen und Strukturen, die für die Organisation eines solchen Events nötig sind. Die Headline des Abends ist ''Halbzeit'', da die Studenten sich auf der Hälfte des Weges zu den Modedesignern von morgen befinden.
Zwei Projekte werden an diesem Abend vorgestellt: 1.) unzuMUTbar (betreut von Prof. Anke Schlöder) Hinterfrage das System der Mode Trau dich ihren Anspruch auf Perfektion zu negieren Reflektiere deine eigene Welt Finde neue Impulse Einzigartigkeit 2.) Die Schönheit wird die Welt retten (betreut von Lasse Mitterhusen) Schönheit existiert Sie ist Freude des Lebens Aber was ist schön? Brich mit den Konventionen Begib dich auf neue Wege Finde deine eigene Definition