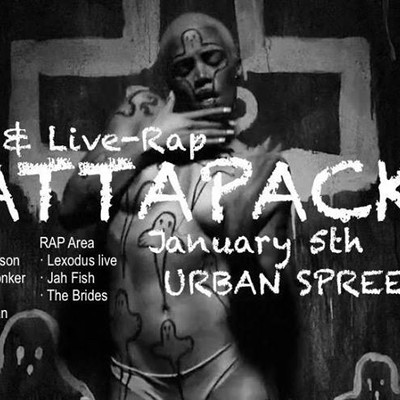 Events
Rattapack // rough, hard, loud & loving
About the Event
★★★ RATTAPACK ★★★ Every first Friday of the month at Urban Spree
// rough, hard, loud & loving //
♫ Best Techno & Live Rap ♫
Right after New Year`s we'll start into 2018 with with a bang.
Rattapack
is the new event series which unites the creator of
Symbiotikka
/KitKat and a bunch of the most outstanding artists from the Berlin techno and rap scene in one big happening. In the club of the
Urban Spree
, DJs like
Grace Thompson
,
Chris Knipp
,
DJ Jordan
oder
Match Hoffman
are gonna play a tough and hard-lined kind of techno sound which you may never have heard from them like this ever before. What's more ? A few new comers like
Dr Double U
from Belgium or the revolutionary duo
Wallace & Wonker
! Whereas in the Boiler Room wich you will find in the basement, it's gonna get hot, intimate and sweaty with the best old school hip hop tracks by
Jah Fish
, Rap/Funk beats thanks to the fascinating duo called
The Brides
and not at least live rap-vocals by
Lexodus
from London, with full power. This is gonna be an awesome night, that sets every visitor on fire and in case you're wondering - yes, you WILL dance! Whoop, whoop! The party Rattapack with new surprises all along will then take place every first friday of the month at Urban Spree.
-----------------------------------------------------------------
>>> Techno Floor <<< ❖
Grace Thompson
https://www.facebook.com/gracethompsondjane/
❖
Wallace & Wonker
https://www.facebook.com/wallaceandwonker/
❖
Chris Knipp
https://www.facebook.com/ChrisKnipp.music/
❖
DJ Jordan
https://www.facebook.com/DJ.Jordan.Berlin/
❖
Match Hoffman
https://www.facebook.com/DJMatchHoffman/
❖
Dr Double U
https://www.facebook.com/DrDoubleU1/
>>> Live Rap Boiler Room <<< ❖
Lexodus
(live)
https://www.facebook.com/lexodus/
❖
Jah Fish
https://www.facebook.com/jah.fish
❖
The Brides
https://www.facebook.com/PEGbrides/
Entry: 12,- € --------------------------
--------------------------
-------------