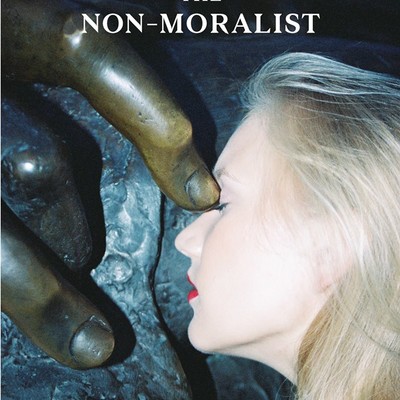 Events
Sova Magazine Issue 5 "The Non-Moralist" Release Party & Exhibition
About the Event
Sova Magazine 5
"The Non-Moralist" is a never ending printed, moving, performed and auditory discourse on the good and bad, the profanity of Do's and Dont's in our contemporary (non)-moral culture. On October 25th we'll celebrate together with an exhibition of selected works by the artists, a reading, live perfomances and kicking dj sets.
E X H I B I T I O N
Camilla Storgaard
 (
http://camillastorgaard.tumblr.com/
)
FLavia Culcasi
Martin Petersen
 (
http://www.colourcritique.com/
)
Peter Kaaden
 (
http://www.peterkaaden.com/
)
Rita Lino
 (
http://www.ritalino.com/
) Romain Brunet (
http://aucunrienromainbrunet.tumblr.com/
) Tine Fetz (
http://www.tinefetz.net/
)
R E A D I N G (ger)
Jovana Reisinger
 (
http://jovanareisinger.tumblr.com/
)
L I N E U P 
Ramzi
 – LIVE (
http://soundcloud.com/phoebeguillemot
) Tami Tamaki– LIVE (
https://www.facebook.com/TamiTamaki
)
Easter
 (
http://easterjesus.bandcamp.com/
) Ondula (
http://soundcloud.com/ondula
)
I N F O
Sova Magazine 5 is made lingual and visual with splendid photographic, perfomative, illustrative & textual works by Antoine Harinthe, Bernhard Handick, Booth Bitch, Camilla Storgaard, EASTER, Flavia Culcasi, GLOSS, Hannah Wolf, Johann Bouché-Pillon, Johannes Gierlinger, Jovana Reisinger, Lisa Geue, Lukasz Wierzbowski, Martin Petersen, Peter Kaaden, Rita Lino, Romain Brunet, Thales Pessoa, Tim Klausing, Tine Fetz and Tove Holm.
Sova is an independent mono- thematic and self-published photography & art magazine with the aim of featuring evolving artists from all around the globe.
http://www.sova-magazine.com/